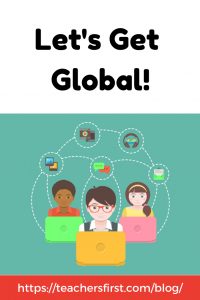 Several years ago, I had the privilege of representing my school division at a global education summit in Washington, DC, and I can honestly say it broadened my educational horizons. "Why?", you ask. It could be that I was just at a point in my career where I was more aware of the impact and importance of global learning experiences; it could be that as a current administrator at the time, but former world language teacher, I just needed a reminder of my passion for global education; or it could be the power of the exposure and professional development and networking opportunities I engaged in during that summit. In reality, it was probably a combination of all these reasons plus a few more, but regardless, my outlook on global education was significantly impacted.
As educators, it is our job to prepare our students for their lives beyond school, develop their 21st-century learning skills, and work to create responsible and successful global citizens (This is an abbreviated list, of course!). How do we do this? I certainly don't have all the answers but, at this point in time, it feels as if the resources and opportunities are endless (and sometimes overwhelming).
As a place to start, I want to refer you to a recent Twitter Chat we had at TeachersFirst.  You can find the archive of the chat HERE. The participants engaged in a meaningful and important conversation about the importance of authentic global learning experiences across ALL content areas and at ALL levels of education. In addition, various tools and resources were shared that will assist any educator in making their learning environment a little more "global."
Here were my takeaways from this chat:
All students benefit from global learning experiences and global collaboration opportunities; the importance is undeniable.
There are many ways educators across all content areas and levels can integrate global learning experiences in the classroom. (Specific examples are shared in the chat.)
There are an abundance of free and quality resources out there to turn any classroom into a global learning environment.
Many educators across the world have great tips and knowledge—work to build your own PLN (professional learning network) to share and learn from others' experiences and backgrounds.
I would love to hear your thoughts… what do you do to promote global education? Let's keep the conversation going!