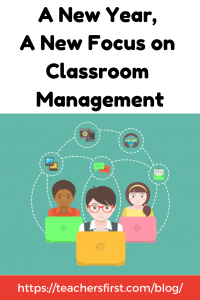 Happy New Year!  With a new year, often comes a re-energized sense of determination to make THIS year the best yet!  With New Year's resolutions abundant, I thought it would be an appropriate time to broach the topic of classroom management—I mean who doesn't want to improve strategies in this area? The more controlled, inviting, and positive our classroom environment, the more effective our teaching practices.  Happy teacher, happy classroom life!
So, let's dive right in!  Classroom management can be a tricky and difficult topic. I'll tell you why I say this…
As my time as an administrator, I was in and out of classrooms constantly (side note- this was ALWAYS the best part of my days!).  What I saw was very different in each class I visited. What worked for teacher A in her class, would never work for teacher B, and vice versa.  I observed teachers in complete control with a quiet and understated presence, versus the boisterous performer who captivated the attention so well of her students. Both were effective in their own ways.  So, that's where the difficulty lies.  Establishing a classroom management system that works for you.
Did you catch our Twitter Chat on classroom management strategies last week?  If not, (or even if so) never fear—click HERE to view the archive.  As I said before, I think you truly have to find what works for you, but I also believe that we can all start with a similar framework for classroom management and build out with our own styles from there.  So, here are some major takeaways from the chat and also some great things to consider this New Year with respect to creating a classroom environment conducive to active learning:
Effective student engagement can oftentimes be the best type of classroom management.
Proximity and images can be powerful non-verbal cues to manage student behavior.
Teacher reflection is a key component to successful classroom management. Check out the archive of our chat HERE and review Q1 (question 1) and A1 (answer 1) from our participants. They shared some great ideas!
Broaden your professional development horizons: observe other teachers in your building, join a Twitter chat, read articles. In turn, you will continue to grow and revise your classroom management skills as the needs of our students evolve.
As always, I would love to hear from you! What classroom management strategies do you utilize or have you seen that we could all benefit from?!  Leave a comment below or better yet, tweet us at @SFLOK2Ask and include our hashtag #OK2Ask.