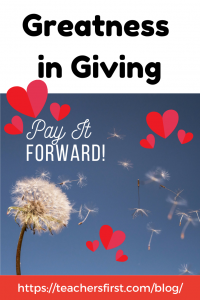 Have you heard of Linda Eaton-Hall Fulcher? In all honesty, I hadn't until recently. So, let me tell you some more. In my humble opinion, her mission is pretty remarkable and rather important, especially when considering the potential impact in our schools. Established by Fulcher, July 15th is declared National Give Something Away Day. As I reflect on this nationally recognized day, I begin to ask myself, how can we motivate our students to "pay it forward"? How can they show others that they care?
For our students, (and adults, frankly) it is often hard to instill a true sense of giving… stepping outside our respective bubbles to give back to others. It all loops back to focusing on the whole child and paying attention to how we can foster social-emotional learning on a daily basis within our schools. In my 15 years of experience in the secondary school setting, I was able to witness many acts of kindness and campaigns with wonderful missions. Let's discuss a little more…
Within the past several years, I also have seen an increase in the desire to create authentic learning experiences for our students. What better way to do this than promoting the act of "giving something away" or "paying it forward."  Whether a small pay it forward activity, a larger-scale project-based learning experience, or a whole-school movement, the possibilities are endless. What I propose is to let the students take the lead—present them with a challenging question/prompt about "giving" (and tied to your curriculum/content), and let them CREATE. Isn't that what it's all about? As they reflect more upon the possibilities, deeper learning experiences and cross-curricular connections are inherent.
If a big initiative or learning experience isn't possible, you can always start small. You could create an extracurricular club with a mission of giving back. Decorate lockers or desks with encouraging words on post-it notes (I've witnessed this in person, and it's pretty darn encouraging to walk in and see 1,500 lockers all with notes of positivity on them), or work with a local charity or group to give back to the community. For some more ideas, this article from We Are Teachers highlights some for you!
So, as July 15th comes and goes, tell me how you plan to help your school community "give something away" this year and beyond?