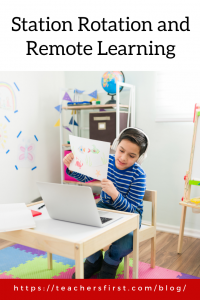 COVID-19 forced schools and teachers to adapt and find ways to teach our students through remote learning opportunities. Learning is multi-dimensional, and remote learning added another layer of complexity. The pandemic has been difficult for families, students, and teachers. Everyone has shown resilience, perseverance, and flexibility – and to make the best of our current situation, flexibility is paramount.
Teachers are demonstrating flexibility by instructing students virtually; in face-to-face, socially distanced classes; or a combination of both environments. One of the most flexible frameworks for instruction is the station rotation model. Successful in brick-and-mortar classrooms, the station rotation model is flexible because it can adapt to the number of students in the classroom, available technology resources, and other circumstances teachers face throughout the day.
As education transforms to meet the demand of 21st-century learning, it is crucial to create creation, communication, and collaboration opportunities. Stations allow students to learn on their own, with their teacher, from their teacher, with digital resources, or by collaborating with classmates. There are unique challenges to implementing the station rotation model remotely and in virtual environments, but doing so can allow teachers to connect with smaller groups of students. The strategies and resources posted below will help you use the station rotation model with remote learners.
Organization: Planning and organizing your stations is essential to your students' success. Using Google Slides (reviewed here) or Wakelet (reviewed here) allows you to manage materials and resources for your students.
Expectations: Set a clear purpose, procedures, and expectations for your remote station rotation experiences. Modeling your activities and processes for the students is also critical to the success of the experience. Use Screencastify (reviewed here) to record short videos to model for the students. 
Differentiation: Review "Differentiation in Remote and Blended Learning," a post on our Infusing Technology blog by Sharon Hall for a closer look at this topic. 
Templates: Catlin Tucker has a fantastic post on designing station rotation experiences for remote learning. She also has information on navigating the concurrent teaching experience. 
In the article "Technology, Pedagogy, and Education: Concluding Comments" (Laurillard, 2007), Diana Laurillard wrote, "We have to be careful not to focus simply on what the technology offers, but rather what the pedagogy requires." Technology tools cannot change the learning experience without a focus on pedagogy and the learning environment. What strategies and resources are you using to meet the needs of your remote learners? We'd love to hear them in the comments below!