The International Day of Peace, established in 1981 by the United Nations General Assembly, is celebrated worldwide every September 21. This year's theme is "End racism. Build peace."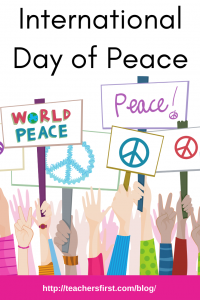 International Day of Peace provides a powerful opportunity to engage youth in diverse peace-related activities that can inspire them to make a positive difference in their world. A.K. Chowdhury, former UN Under-Secretary-General & High Representative and former head of UNICEF,  said it best, "A key ingredient in building a culture of peace is education." When students and adults alike are given opportunities to explore and learn about the lives of others around the world, they are better able to develop empathy and compassion. 
Literature can help improve students' global understanding. Books can launch our students into a voyage of discovery, allow them to explore other ways of being, and bring clarity to their worldview. Classified by theme and grade level, some TeachersFirst CurriConnects collections are perfect for sparking discussions about understanding others:
Whether you use one of the texts from the collections above or another medium to foster openness to other cultures, you'll want to provide students with opportunities to synthesize and share their thoughts.
Celebrating Peace Day doesn't need to be a huge lesson. Simply discussing what the day means and why it's important is more than sufficient. Please explore the Peace Day resources below that offer various classroom activities.
Whether you choose a powerful lesson or a simple class discussion, make a point to share in celebrating this day with your students, then come back to this post and leave a comment explaining how you promoted peace with your students.