"We need to encourage girls that their voice matters. I think there are hundreds and thousands of Malalas out there."

– Malala Yousafzai
March is a special month for my family and me. I am honored to celebrate my birthday on March 8, International Women's Day, during International Women's Month. However, the most memorable part of March is celebrating women's contributions to our society with my four daughters. As teachers, my wife and I enjoy reading stories to our six children. Stories have a transformative power to communicate lessons, foster discussion, and present different world perspectives.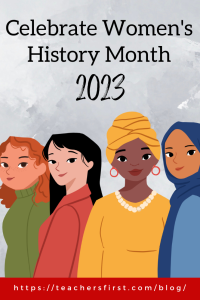 "Celebrating Women Who Tell Our Stories" is the 2023 Women's History Month theme. March was established as Women's History Month in the United States to celebrate the accomplishments and achievements of women in our culture and society. Every woman has a story to tell, and women's contributions are paramount to the success of women around the world. By passing on the history and connecting students with stories about women, we strengthen connections to society.
Support learning experiences in the classroom connected to Women's History Month with free resources. Students can learn about women's role models in various careers with Women's History Resources (reviewed here). In addition, SciGirls Connect! (reviewed here) has short, five-minute overviews of STEM careers and what each role model finds satisfying about their profession. Help students celebrate female role models in STEM careers, and don't forget to check out the hands-on activities. Explore TeachersFirst's Reading Treks, a virtual field trip built using Google My Maps (reviewed here), to chronicle the journey a story character takes over the course of a book. Each stop along the way adds to student comprehension as they explore the information, visuals, and videos embedded in the map. Share the Reading Trek, Nadia: The Girl Who Couldn't Sit Still, a biographical picture book about Nadia Comaneci, the Romanian gymnast with seven perfect scores in the 1976 Olympics, with your students. Use these resources year-round with your students in all disciplines. 
TeachersFirst has also curated and reviewed various free technology tools and resources for researching and presenting what students learn about women in our communities. For example, The Biography Maker (reviewed here) provides step-by-step ideas for writing biographies, beginning with questioning and concluding with tips for improving writing. In addition, you'll find a collection of free timeline creation tools, many of which include lesson plans, templates, ready-made timelines, and other resources. Finally, explore the reviewed presentation tools for tools your students can use to show what they know about influential women in our world. For example, Renderforest (reviewed here) is a fun video and animation creation tool. Students can create introductions for YouTube videos, animations, and slideshows using the site's free templates.
There is much to celebrate during  Women's History Month and throughout the year. For example, Kamala Harris is the first woman and the first person of color to serve as Vice President of the United States. Learning about influential women from our past and present helps us create a better future. Powerful women come from all types of communities worldwide, and we must help our students understand their impact. In the comments below, we would love to hear about your ideas and strategies to celebrate Women's History Month in the classroom!