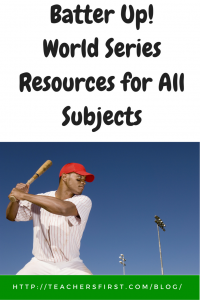 October is the time of the year we look forward to many of our favorite events. Carving pumpkins, picking apples, and trick or treating are just a few things we look forward to. Other anticipated events each fall are the baseball playoffs and World Series. Take advantage of student enjoyment of baseball to motivate and teach by incorporating a baseball theme into your lesson plans.
If you teach history, take a look at the rich history of baseball in the context of other world events. Easily incorporate baseball into Civil Rights lessons by studying the players and teams of Negro League Baseball dating back to 1880. Incorporate geography and teach map skills by studying locations of major league teams. Dig deeper by researching how teams locate to specific areas, what teams are most successful and what does geography have to do with their success? Here are several social studies-related websites to get you started:
The World Series is an excellent time to appeal to the interests of reluctant readers. Take advantage of this time to offer links on classroom computers to updated information on the games and players. If you teach persuasive writing, ask students to write why their favorite team should win the World Series. Some other sites to incorporate reading and writing are:
Math and Science teachers should love the many opportunities to include baseball in the classroom. Baseball is a game of science, and many online sites are devoted to looking at the physics, data, and statistics involved with baseball.
Art and Music teachers also have several resources for incorporating the World Series into their classrooms. Baseball has many familiar sights and sounds perfect for incorporating the arts into lessons.
Teaching lessons with a baseball and World Series theme offers an excellent way not only to motivate students but also meet many standards. Through careful planning, you can offer multiple non-fiction reading and writing opportunities and real-world problem-solving opportunities while also appealing to your student's interests.
What are your favorite ways to bring the World Series into your classroom? We'd love for you to share your ideas below.