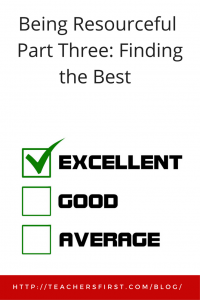 Way back in the twentieth century, your high school English teacher probably decreed that you needed ten sources for your research paper. You probably moaned about how hard it would be to find that many. If you were savvy, you headed to your school or public library to find the resources you needed. If you needed help, the librarian guided you through the intricacies of the card catalog and The Reader's Guide to Periodicals. You dutifully took notes on 3×5 cards and perhaps used the library's copy machine to photocopy items you couldn't check out.
Today, students are awash in a sea of online information, much of it unsubstantiated or of dubious origin. In previous posts, I shared ways students can find and evaluate the most relevant information for their research questions. Now, let's take a look at how students can find the "creme de la creme" of information by accessing the "invisible web" of sources that may be behind a paywall.
The "invisible web" is the vast wealth of online information that search engines cannot access and therefore, cannot find. Most of this information resides in proprietary databases that require password access. For an excellent overview of this topic, see the LaGuardia Community College Library Media Resources Center guide.
So why teach students how to find this information? Students, especially those preparing for college, must learn how to work with academic, and often scholarly, information sources. These include magazine and newspaper articles, professional journals, and online reference sources often available only through these services.
Making the connections between an article, its parent publication, and how to access that publication seems to be a lost art. You may need to demonstrate the association by holding up an example of a physical print article in a magazine and then showing the corresponding citation in an online magazine database from publishers such as EBSCO, Gale, and Proquest.
Surprisingly, the key to accessing  many of these marvelous paid services for free is your library card. Amazingly, in our 24/7 connected world, and thanks to your tax dollars, you and your students can likely access the invisible web with a library card. Libraries and state consortia regularly have whole sections featuring these resources, and they spend big money to making them accessible to their users.
If you have never used these sources yourself, you may need to do just what we did in the good old days: learn what's available from your school or public librarians. Perhaps you have a relationship with a college library as a grad student or alumnus and have privileges there as well. Why not investigate your local library website to see what they offer? Show your students know how to use their school library resources, and help them sign up for a public library card. Helping our students use these public treasures will improve their research and narrow the digital divide for many.
Searching this wealth of digitized information takes practice. Often, it is not as easy as throwing a few keywords into a search engine box. Many of these products use natural language searching, and they rank results by relevance. Check out the advanced searches and search delimiters the products provide, and teach your students how to use them. Many useful variables are built-in, such as the ability to search by Lexile levels, materials geared to the curriculum, state standards, and full PDFs of articles. The new, online encyclopedias are chock full of extras that appeal to students and provide additional materials for classroom use.
A recent development that helps make searching these resources easier and similar to search engines is Discovery Services. Discovery services integrate the library's online public catalog with its paid databases. One search will bring up books, articles, videos, e-books, and more.
Another helpful feature many databases provide are embeddable "widget" search boxes—a code block that will to embed a search box into a website. Using these widgets on classroom websites can direct students to the resources of the invisible web. Check the user pages of products to see if widgets are available.
Help your students make the leap to high-quality information sources by using the invisible web, free for everyone, at our libraries. Next month, we'll check out more free "invisible web" resources, starting with our own TeachersFirst.