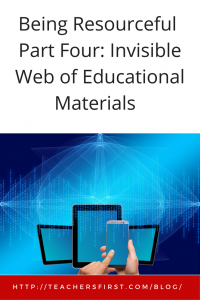 The invisible web is a world of resources not available using conventional search engines. Last month we looked at databases of information found behind paywalls, but often accessible with a library card. Now let's investigate some sites that are freely available, but take some knowledge and instruction to use.
A great place to start is our own TeachersFirst. Although TeachersFirst is searchable, the usual basic search engine queries probably will not bring TeachersFirst's results to the top of the list. So let's take a look at some advanced search options that will do just that.
 An easy option to use for a specific website is the "site or domain" search. Try the Google Advanced Search page to access this handy feature. A nifty shortcut is to type the advanced search setting right in the address bar using "site:(search only one website),"  e.g. "site:teachersfirst.com poetry." This search will find references to poetry found on the TeachersFirst site. Sometimes this type of searching will find exactly what you want when a site's built-in search box does not.
If you are using Chrome as your browser, here's another hidden tip. In Chrome's settings, select sites you want to search by entering the URL in the address bar, and then hitting the tab key. For example, when typing TeachersFirst.com and then pressing the tab key, the words "Search TeachersFirst.com" will appear in the address bar.  Then, type search terms after the URL and get the TeachersFirst results. Learn more about how to set up Chrome in this Myndset article.
When using the TeachersFirst built-in search box, be sure to choose your search terms and delimiters carefully. When searching more than one term, you can decide if you want results to show any of the words searched, all the words searched or the phrase as typed. This will make a big difference, limiting results to what you want.
When you use sites that are part of the invisible web, be sure to pay attention to the search box, delimiters, and help pages or suggestions. Note whether sites, especially those designed for teachers, provide memberships, accounts, or personal logins.  Registering with a particular site and creating an account will often give you added usability and powerful features. Having a personal TeachersFirst account lets you mark favorite resources and provides a personal TeachersFirst start page that can be tailored to needs and shared with others. Check out this OK2Ask webinar for more tips. 
Teachers love the programs found on public television. Now PBS offers a place called PBS LearningMedia, where teachers can access over 100,000 resources, all free for educators to use in the classroom. Anyone may search this site using keywords, standards, grade levels, subjects, and media types that include videos, lesson plans, activities, interactive websites, games, documents, and images. This site offers free teacher accounts, allowing you to save favorites. With accounts, teachers can create classroom activities and assign them to students using the productivity and student portals, which complement the main site. Check out these tutorials for more details.
Looking for more free instructional ideas and educational resources? Time to discover Open Educational Resources or OERs. The OER movement encourages educators to create and freely share instructional materials. The OER Commons, is part of the Creative Commons movement, making it easier for everyone to share work they have produced without restrictive U. S. copyright laws.
The OER Commons has thousands of educational materials, including lesson plans, quizzes, videos, games, and presentations, that teachers may use and modify for their educational purposes. Although accessible without registering, making an account gives you the ability to create and share resources. An extensive search capability ties items closely to educational standards. The OER Commons includes educator-produced materials, as well as resources from PBS, NASA, and similar organizations.  Join the OER movement ,and find a community of passionate educators sharing their best. Learn more at these training pages. 
These three sites, which don't appear at the top of popular search engine results, give teachers thousands of resources designed to support their curriculum and students. In a future post, we'll look at the vast resources waiting to be discovered in government websites, especially federal agencies, museums and the Library of Congress.