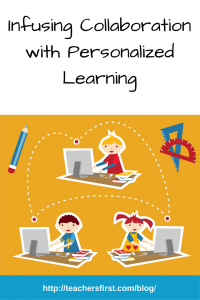 Hopefully you had a chance to brush up on the Social Learning Theory, but in case life got in the way, the essential components to understand are the instinctual needs of learners to collaborate and share with the teacher as a facilitator.  Doing so in an informal learning space is most desired according to this theory.  As we begin our journey down the social learning path, let's begin talking about collaboration.  It's much more than group work… it's the idea that learning can occur with not to. In other words, the focus shifts from teaching to learning.
When first approaching collaborative groups within the classroom, I know it can be scary, mostly because the teacher loses that total sense of "control".  When I was a middle school principal, I often heard concerns about student behavior (or lack thereof), student focus, engagement… do I need to go on?  You get it. My best recommendation is to leave your fear at the classroom door and just try it.  Let go of the power and think of the teacher role more as a facilitator.
So the next question should undoubtedly be—how to break students into groups?  Does the teacher pick the groups?  Do the students?  My suggestion would be to use a combination depending on the type of activity.  Remember, this is the social learning theory put into practice, meaning teachers need to try their best to ensure active learning is indeed taking place.
This brings me to my next point—when thinking about groupings, you must also think about personalizing the learning, giving students what they need, when they need it.  In a nutshell, iNACOL defines personalized learning as "Tailoring learning for each student's strengths, needs and interests—to provide flexibility and supports to ensure mastery of the highest standards possible".  Isn't that a great definition?!  Great… yes!  Hard to implement… yes!  But that's why educators are amongst the most talented and creative professionals.
So, I leave you with this—think about trying to break students into collaborative groups as a part of a larger station rotation activity.  Give a quick formative with instant data available at the beginning of class.  The key is you must take that data and group students based on their needs.  Think about having a high achieving group working independently on extension, while the teacher leads a small group needing extra support.  Have the middle group work in collaborative pairs to complete a task.  Differentiate up and down.  There are many tech tools that can aid in the implementation of student groupings, many of them reviewed on our TeachersFirst website under the "Collaboration" link.  Check them out and take a risk… you'll be glad you did, I promise!