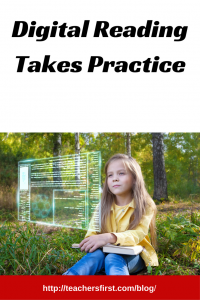 Most of us and our students spend a large part of each day reading digital text. Although we might prefer and encourage reading traditional print sources on paper, most of our future information needs will be fulfilled online. Although studies have shown people who read printed text comprehend more–thus learn and retain more, digital access to information on various electronic devices will continue to increase. Classroom teachers and library media specialists must understand the differences involved in reading multiple text formats. We need to give our students lots of practice in reading digitally, especially to help them deal with online distractions.
Here are a few articles that provide background on the topic.
Now try a few tips to help students become better digital readers.