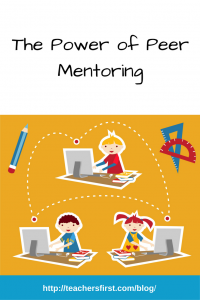 I'm going to start off this post with two brief personal anecdotes…
Upon being asked what I taught when I was in the classroom, I always reply "I was a high school Spanish teacher", however, there's a little more to the story.  My last several years, I had the opportunity to also take over one section of a class called Peer Helping and wow did it provide insight into the power of peer mentoring.
As a middle school principal, I was able to witness two successful peer mentoring programs in my school: one a math peer tutoring and mentoring program and one a ELL (English Language Learners) peer mentoring program.  Although very different scopes, they both provided my students with similar benefits.
Let's delve into this topic a little further…
A strong peer mentoring program can have a variety of positive outcomes, both for the mentees and mentors.  Relatively few monetary resources are needed to start up a program and the benefits can be both rewarding and long-lasting.  A successful peer mentoring relationship can help with students with self-esteem, a sense of belonging and connectedness at school, communication skills, and conflict resolution (just to name a few!).
So, how do you go about starting such a program at your school?  Here's what I would suggest as a general framework to begin:
Determine program outcomes. What do you want your students to get out of the peer mentoring relationship?  Self-confidence?  A role-model?  Increased communication skills?  Maybe all of the above?  Whatever your program outcome, set that goal ahead of time to drive your program and it's mission.
Clearly define roles of staff and students. Determine how involved staff will be.  It would be helpful to jot these down so that you can share information with all participants ahead of time.  Spell out the responsibilities and time commitments of staff and students.
Involve your school administration. Not much more to say here, but you'll want to communicate your plan clearly and ensure that you have their support.  They can also help down the road with any resources and partnerships you may need.
Plan out participant selection and training. Will you have an application process?  I always found it helpful to involve school counselors or other such personnel in the process of student selection (of both mentors and mentees).  It may also be helpful to have teacher recommendations for your peer mentors… having a teacher seal of approval is always beneficial!  Now, how will you train the mentors?  Come up with a training guide or agenda.
Identify activities or a curriculum. This largely depends on your age group.  Have some icebreakers and get-to-know-you activities ready.  I've seen board games and table topics cards work for sparking conversation and relationship building.  Maybe you want to start out in a group circle if you have a large group.  Use your creativity here and cater your activities/curriculum to your program needs.
Determine any needed resources and/or partnerships. Per above, do you need games or conversation starters?  Breakfast or snacks?  There are obviously a lot of free resources out there and you can also ask for donations from other teachers in your building or your PTA/PTO and community.  As for partnerships, I've seen local businesses or groups provide assistance in the way of speakers, donations, scholarships, etc.  "Hit the pavement" and reach out—that's what I always found most successful.  Local businesses love to support their local schools!
Collect data. Don't drive yourself crazy, but you want to make sure you can communicate that your program is growing and worthwhile.  Track how many students you have participating and any benefits you can show (increased student involvement in school activities, grades, behavioral improvements, etc.).
If you're still with me, thank you!  I am so passionate about this topic, because I've seen it work—both at the grass roots level of teaching a class and from the broader lens as a principal.  Let me know how it goes or if you have a successful program already, share any additional tips you may have!