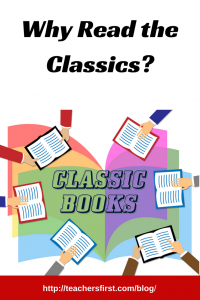 "You think your pain and your heartbreak are unprecedented in the history of the world, but then you read. It was Dostoevsky and Dickens who taught me that the things that tormented me most were the very things that connected me with all the people who were alive, or who ever had been alive." –James Baldwin.
Although I was a voracious reader growing up, my parents always urged me to read "the classics." Many classic literature authors have birthdays in February. You may have read many works by them, especially if you were an English major. How about Charles Dickens, Wilhelm Carl Grimm, John Steinbeck, Henry Wadsworth Longfellow, Jules Verne? Then, there are some modern children's authors, whose books are now considered classics, such as Laura Ingalls Wilder of the Little House books, Judy Blume of Hello, God, It's Me, Margaret and Alexander and The Terrible, Horrible, No Good, Very Bad Day fame, and Clifford, the Big Red Dog author Norman Bridwell. So what is a "classic," especially a children's literature classic?
The Baldwin quote above gets at the deepest level of what makes a title a classic, a story that is true for all generations because of how it touches our innermost selves and connects us to people everywhere and every time. I love this statement by Eden Ross Lipson, former book editor for the New York Times Book Review, who said that a children's book becomes a classic not because of its reviews, but "whether your children choose to read the book to their children, and so on, an organic and generational process of elimination."
Italo Calvino proposed fourteen criteria for a classic. For me, the best is number eleven. "'Your' classic is a book to which you cannot remain indifferent, and which helps you define yourself in relation or even in opposition to it." An iStorybook blog post sets five criteria for a children's classic, including having likable characters, an uplifting ending, being fun for both children and parents, and telling us something about being human. Children love their favorite books passionately, will reread them over and over, or demand they be read to them. How many have tried to convince a toddler, "Please, couldn't we have a different book today?" I read Louisa May Alcott's Little Women multiple times from the age of nine to adulthood. Each time, I found a different story as I grew older and related to the lives and experiences of the March sisters anew.
Let's explore some resources that lead us to the classics in children's literature, both the traditional and "new" ones. Find some classic titles for your classroom collection, school library, or as a recommendation for a certain child.
A marvelous work of memoir and literary criticism by Bruce Handy shares his thought on his and his children's favorite classics and why they are endearing and enduring great works of art. Read this New York Times review about Wild Things, The Joy of Reading Children's Literature as an Adult. Remember why you love authors like Laura Ingalls Wilder and Maurice Sendak, who penned many twentieth-century children's classics.
As always, a great place to look for suggestions for classroom resources is TeachersFirst. Several special features have gathered helpful reading suggestions.
Here are some websites that will help you explore additional classic authors.
The Center for the Book at the Library of Congress has a large collection of ebooks for children and teens.  See this TeachersFirst review.  Those with limited budgets but access to technology via one-to-one devices, a classroom smartboard, or even a video projector and computer will find classics in the public domain. Read these virtual classics with their charming illustrations using the Read.gov interface.
Project Guttenberg has been sharing ebook formats online since 1971. It's Children's Bookshelf is the perfect place to find a classic that is downloadable in multiple formats to work with various devices & e-readers.
The Internet Archive is a "digital library of Internet sites and other cultural artifacts in digital form." The site is a collaboration of many collections. Many classics are available in various ebook formats.
Looking for audiobooks for students who might enjoy or need that format? TeachersFirst has 130 suggestions "TeachersFirst Audio Books."  This blog post from Scholastic focuses on several sites for "Free Audio Books and Why You Should Try Them"
While it's still cold out, find a title for you and your students to curl up with and experience the magic of classic literature.