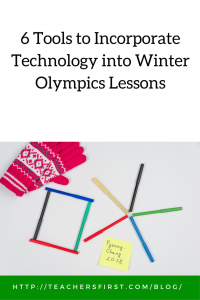 The Opening Ceremony of the 2018 Winter Olympics takes place in PyeongChang, South Korea on February 9 with the featured walk of athletes from around the world. A record of over 100 medals in 15 disciplines will include four new events – big air snowboarding, freestyle skiing, mass start speed skating, and mixed doubles curling.  The Olympics will wind to an end with the closing ceremony taking place on February 25.
It isn't difficult to search Google to find many lessons for teaching about the Olympics. The TeachersFirst website includes 49 free resources with the Olympics tag, and many apply directly to the Winter Olympics. These searches, however, don't always provide enough information to add technology through standards-based lessons correlated to ISTE Standards for Students. These standards provide a framework to ensure student voice and growth in a constantly changing technological landscape.
In addition to the ISTE Standards, consideration of the SAMR or other similar model helps provide a framework to incorporate technology into lessons. This model allows us to assess the use of technology in our classrooms starting with the use of technology as a substitute for something we already have and leading up to using technology to create and implement tasks in ways that would be impossible otherwise.
Keeping ISTE Standards and SAMR in mind, these six of the newest tools found on TeachersFirst Edge offer a wide range of uses and the opportunity for creativity for you and your students as you follow the progress of the 2018 Winter Olympics.
Most students hold a natural interest in the Olympics. This interest may be due to the participants, the sport, or the spectacle involved in the events. Whatever the reason, this is a perfect time to take advantage of student interest and guide them toward deeper learning through the use of the many online tools available.
What do you do to incorporate technology into your study of the Olympic Games? Share your ideas or projects in the comments.