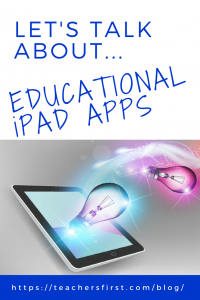 It's hard to imagine that the iPad was only released eight years ago.  The fundamental shift in technology use in those years has been absolutely staggering.  This video shows how the first purchasers believed the tablet should be used: to check email, watch movies and to read in bed among other things.  While initially a convenience device, educators around the globe saw the potential for educational use of the iPad.
Everyone has favorite apps, so I thought that I would share mine today as we celebrate this technological milestone.
When choosing apps for the classroom, it is important to make sure that the app is able to further your educational objectives before introducing it to the students.  Your students will love the idea of using iPads no matter what app you choose. For more information on how to choose an appropriate app look at the Triple E Rubric for evaluating apps.