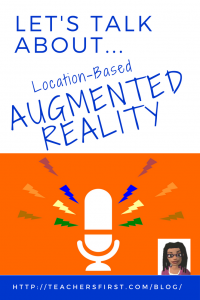 June is Great Outdoors Month.  It's great timing because this time of year can be difficult for both teachers and students.  While many schools are getting ready to close for the summer, getting through the remaining days with antsy students and tired teachers can be hard.  It's time to plan for some "fun" outdoor instructional activities.
One great way to have instruction outdoors is to use location-based augmented reality (AR).  If your school allows students to bring in their devices (BYOD) or if you have a class set of devices that you can borrow from the media center or instructional technology team, then you've got everything that you will need.
One location-based AR game that many people know is Pokemon Go.  Take your students outside for an opportunity to play the game.  Then bring them inside to use the data (yes, data) that they collected for instruction.  They can create a digital story about their experience from the Pokemon's point of view adding pictures of the Pokemon taken while playing the game.  They can design the optimal habitat for their Pokemon to live in. They can graph the data on how many different Pokemon they have collected. For additional ideas on activities for leveraging this game in the classroom, see these resources:

For older students (or maybe for yourself) try Ingress – Pokemon Go's older sibling.  Here's a little more about Ingress in case you haven't heard about it before. Interested in ways to use it for language learning?  Here's an article for you.
If you teach physical education or would just rather have a more purposeful time outside, try Walkr or Zombies Run! These games track the user's physical activity and use it to power gameplay.  You could kick up the Zombie theme a bit by modeling a unit after Mr. Daley's Summer English program or maybe our OK2Ask Zombies At Your Door session.
Perhaps ready-made games are not your style. You can still take advantage of this technology. MIT Game Lab's TaleBlazer offers you the opportunity to create your own game using AR technology. The website offers tutorials, templates, and examples to allow you to make full use of this free game-based learning platform.
I realize that Augmented Reality may sound too techy for some of you.  You can still leverage technology for outdoor instruction. Try Siftr (reviewed here). Create a scavenger hunt for just about any content area.  Students can return to the classroom and create a digital story using the photos that they collected or a visual essay explaining the relationships between the items found on their hunt.
If any of these ideas appeal to you, or if you want to add an idea, let us know in the comments below.  If you've tried one of the ideas, let us know how it went.