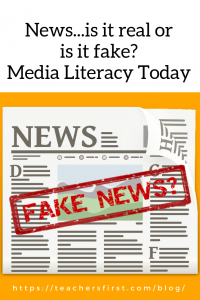 The New York Times was first published on September 18, 1851! The world was a very different place then. Today the words Fake News are a stark reminder of the amount of information our students receive every day. How can we help our students know what is real and what is fake? By teaching Media Literacy. According to the Center for Media Literacy,  Media Literacy is the ability to access, analyze, evaluate and create media in a variety of forms.  Media Literacy is an important topic that all teachers should be involved in teaching.
Many organizations provide a variety of resources for students and teachers. The National Association for Media Literacy Education provides resources like the media lit one sheet, which is a guide to asking the right questions to evaluate media. The Center for Media and Information Literacy furnishes a page of education resources. The Media Education Lab maintains a collection of media literacy curriculum materials.  The Media Spot provides a Media Literacy Scope and Sequence. The New York Times produced a teacher resource entitled "Evaluating Sources in a 'Post-Truth' World: Ideas for Teaching and Learning About Fake News."
We can present our students with resources that will help them determine if an article or website is real or fake like:
Try out an interactive activity with students!
We can all celebrate the New York Times' anniversary by helping our students to become media literate! Be sure to check out the TeachersFirst media literacy resources like the Media Literacy special topic collection and previous blog posts Media Messages Matter and Media Literacy in a Presidential Election Year.