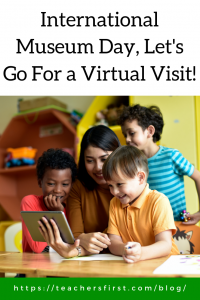 May 18 is International Museum Day; however, not everyone has access to a museum to visit. So what do you do? Take a virtual visit, of course! If you read Ruth Okoye's recent blog on virtual field trips you already have lots of ideas with places to visit and how to make the most of a virtual field trip.
Let's take Ruth's ideas a step further with additional suggestions for expanding learning through virtual museum visits. But first, here are some more ideas for virtual museum visits that might be new to you:
As Ruth mentioned in her blog, it is vital to keep the focus on student learning. Let's take a look at some ideas on making the most of a virtual trip from start to finish:
Many museums all over the world offer virtual visits. These are an excellent resource for sharing art, relics, and documents from different eras and locations. Be sure to take advantage of taking a virtual museum visit to add context and in-depth understanding within many different lessons.
Do you take your students on virtual visits? We'd love to hear where you go and how you incorporate your visits into your curriculum. Share your ideas in the comments below.