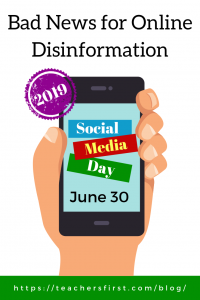 June 30 is the 10th anniversary of the recognition of Social Media Day. Although every day is Social Media Day, this date points out the importance of thinking about the impact of social media on our lives. Also, it is imperative that we include thinking about how we teach the responsible use of social media to students.
TeachersFirst offers many resources for understanding and teaching safe social media use. This blog, written by Ruth Okoye, offers many practical ideas for teaching about social media by implementing social media practice spaces. Take a look at this Twitter Chat archive that includes tips and information on implementing social media practice spaces into any classroom. Practicing safe use of social media is a fantastic, yet rarely used idea, and it is well worth your time to take a look at the ideas and suggestions contained in these links.
I'd like to share a site that offers a unique twist to teaching about safe social media use. Bad News (TeachersFirst review) is a game where the players spread bad news and disinformation as a method to gain as many followers as possible. Drop any morals and sense of ethics you have and try to get as many followers as possible by building credibility through your fake news site. Along the way, make choices to spread disinformation to gain supporters and followers.
Before sharing Bad News with students, take some time to play it yourself. It is an engaging game, and it is easy to get hooked into playing over and over. While playing, you need to separate from your "do-good" mindset and put yourself into the mindset of someone trying to deceive and confuse others. Do you want to fake an official Twitter account or can you spread disinformation better by impersonating someone important? How will you disseminate your views – through a blog or a news site? The choice is yours.
As players continue through the game, they earn badges for impersonation, emotion, polarization, conspiracy, discredit, and trolling. All of these are vital skills for gaining followers and credibility as you spread disinformation.
Learn more about the development of this game and how to use it in the classroom with the site's Educator Guide. The guide provides links and data showing why the spread disinformation is a major problem, and possible solutions for recognizing and avoiding non-factual information. One scary fact found in the guide is a recent British study finding that only 4% of participants identified fake posts from real news. This study only highlights the importance of raising awareness of social media manipulation techniques with students.
Your most important lessons come after playing the game. How do you engage students to extend their learning and apply lessons learned in the game?
One way is to take each of the badge labels and investigate them further throughout the year. Take a deep dive into using emotion to gain followers and spread disinformation by spending a month or longer asking students to research and share specific online examples. Be sure to revisit previous labels as you find them at any time.

Make it easy for students to share and discuss their examples using Padlet (

TeachersFirst review

). Create a Padlet with a column for each label and ask students to post links to online articles that fit into each category. One benefit of Padlet is that it offers a comment section making it easy for everyone to discuss and share information in one place.
Find many more resources at our TeachersFirst Special Topics Collection curated just for Media Literacy. This collection contains links to games, courses, and websites related to media literacy.
Did you play Bad News yet? How did you do? My last attempt gained 7,319 followers, and my credibility is at about 75%. I'm going back to see if I can get more followers (I don't care if they are bots)!
Share your Bad News scores and your favorite tips for teaching safe social media use in the comments section. The more we work together, the better we become at using social media wisely and safely.