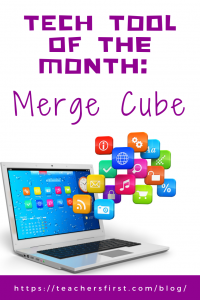 The tech tool for this month is Merge. The Merge Cube is just that, a foam cube. It has a different design on each side. The developers call it, "The hologram you hold in your hand." You hold this cube in front of your device's camera when using the app, and the cube transforms into different scenes and 3D objects. See things from various angles by moving and rotating the cube. I tried it out, and it was SUPER cool! I can't imagine any student who wouldn't be engaged in this activity. 
Virtual Reality (VR) and Augmented Reality (AR) are both being implemented in classrooms across the world. Although they are similar, they also have distinct differences. AR uses an existing environment. Augmented reality adds to the reality that you are already seeing (such as Pokemon Go). But, you stay in the same location, possibly adding layers to maps and more. VR uses a virtual environment; it takes you away from your current surroundings. Virtual reality takes you to the cockpit of an airplane, the middle of the ocean, or even inside the body.  
Interestingly, Merge refers to itself as both a VR and AR tool. I suppose it depends on which app you are using. First, let's get real and be honest. Merge Cubes are NOT free, but they are on sale often at Walmart for $5, usually $15. So it is affordable and many of the activities are free. Take a look at the Educational activities on this list. There are over 100 different apps to explore. Each of the activities on the list includes the price (over 90 of them are free). The activities also include a user rating, image or video tutorials (hosted on YouTube), age recommendations, description, motion level, and if you need the Merge Cube, a headset, or just a phone. 
Many of these 100+ educational activities would be perfect for the classroom (depending on what level and subject you teach). After reviewing the ratings, descriptions, and researching the activities, I want to share some of the must-see activities:
Expedition to the Heart of an Active Volcano is rated E for everyone and a perfect addition to your science or geography classes. Use this activity at any grade level learning about volcanoes. 
Times Tables VR is ideal to use in the elementary math class learning multiplication facts. This one is rated E for everyone. 
The 3D Museum Viewer offers a ton of options. It is rated for ages 7+. You can bring sculptures and artifacts from museums around the world into your classroom. Virtually walk around and explore. This one also has a recording feature. This activity could be useful in both social studies and art classes. 
Moment AR is appropriate for all ages but designed for educators and parents working with special needs students. Help your students with special needs to identify their emotions using the characters and scenarios in this app. 
Mr. Body is rated for ages 10+ and offers a hands-on anatomy lesson. Mr. Body is a great add-on to elementary, middle, and high school science classes. Learn the functions of the heart, brain, lungs, and more.
Looking for even more educational ideas and apps using Merge?