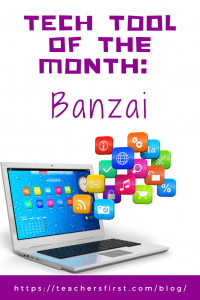 Money management matters! September is College Savings Month, and the perfect time to further develop your students' financial literacy skills. Banzai is a tool that teaches about financial literacy, a 21st Century skill that students are often lacking. We tend to worry about geometry, algebra, and calculus and forget the basics and being financially wise. This is a useful skill for students to learn at all grade levels. It is a skill that students will need as adults (planning for college, buying a home, retirement, and more).
Banzai is useful to help students learn to prioritize their spending. Banzai was designed for students ages 8 and up. During the tween and teen (especially) years students typically are getting their first jobs, possibly a car, and in the frantic stages of planning (and saving) for college. 
The site includes interactives, simulations, and "choose-your-own-adventure" style activities. There is a pretest to determine the students' understanding of financial literacy. They also include a post-test, plus smaller assessments provided throughout the activities. The site includes real-life interactives that students may actually experience (such as paying your cell phone bill or unexpected bills such as new tires for your vehicle). There are Life Scenario booklets for the class, also free, and lots of handouts available for download. The tool offers three different "courses" to explore: Junior (ages 8-12), Teen (ages 13-18), and Plus (adults). 
Students accounts are free (thanks to funding by many banks). Create your teacher account and then request your free Life Scenario booklets as an added bonus! Once you have created your teacher account, you will receive a class code to give to your students to signup for their free account. You can create as many classes as you need (no limit). Banzai makes it easy for the educator, they will even grade the assessments! 
As educators we can't predict the future of education or the job market, but we can prepare our students with some basic life skills. Financial literacy offers students knowledge that they can use for a lifetime. Consider sharing Banzai on your class website for families to explore at home. 
Additional information: