African American History Month began when Carter G. Woodson created Negro History Week in 1926.  It is always celebrated in February. According to the Library of Congress, it "celebrates the contributions that African Americans have made to American history in their struggles for freedom and equality and deepens our understanding of our Nation's history."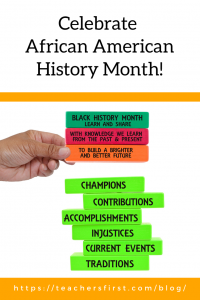 Every year there is a new theme chosen by the  Association for the Study of African American Life and History. This year's theme is African Americans and the Vote as 2020 marks the sesquicentennial of the Fifteenth Amendment (1870) and the right of black men to vote after the Civil War. If you would like to stick to the theme in your classroom, there are many resources available from lesson plans, to a variety of resources about voting rights from Civil Rights Teaching, and a voting history timeline. If the voting theme does not work for your classroom, there are many other themes to focus on. General African American history resources and lesson ideas are available from many sources like the National Archives, Biography, PBS, EdTechTeacher, and the NEA. Try something new from an organization like the Free Library of Philadelphia, ThoughtCo, BlackPast, or the National Museum of African American History & Culture.
Students love interactive activities. There are many available that are connected to African American History. Take a 360 tour of the National Museum of African American History and Culture, take a journey on the underground railroad, explore an interactive timeline, make a 3D print of or explore a 3D model of an African American history artifact, explore the Civil Rights Trail, look at slavery from a different view, or meet 44 African Americans that shook up the world! There are also many ready-made lesson plans about African American history available. Your students can learn about culture and change, the underground railroad, or try out a lesson a day for the month. Apply critical thinking skills by exploring primary sources from the National Museum of African American History, the Freedman's Bureau, or another organization using the Library of Congress primary source analysis tool or this tool from Scholastic.
Whatever you do, make an effort to celebrate an often not celebrated aspect of our American History during African American History Month.  Start by exploring the TeachersFirst collection of African American history resources!
(This post was updated February 2022)