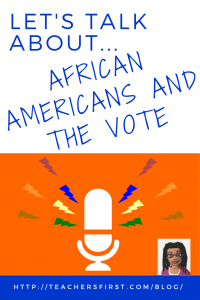 Each year the Association for the Study of African American History (ASALH) announces a theme for Black History Month. The theme serves as a spotlight for historical issues and developments that are important for race relations in America. ASALH encourages those with interest in black history to use the month of February as a time to explore these issues of historical importance. This year, 2020, the theme is African American's and the Vote.
Suffrage, or the right to vote, was forbidden for African American men and all women in the United States until the 15th Amendment to the US Constitution gave African American men the right to vote in 1870, and the 19th Amendment gave women the right to vote in 1920. Even after these amendments were passed, many African Americans were unable to exercise this right until the Voting Rights Act was passed in 1965.
Our students need to understand that voting is both a privilege and a responsibility. One way to help them learn about civic engagement is to study the lives of leaders, activists, and even every-day citizens who have made a difference. TeachersFirst Reading Treks provide lesson ideas and materials to guide classroom exploration into the lives of various people and the situations they find themselves in. As you plan for classroom investigations into African Americans and the vote, there are a few Reading Treks that might help.
Around America to win the vote is a whimsical story about the women's suffrage movement. At the elementary level, it will be a great way to begin discussions with students about the universal suffrage movement and the plight of African American women in particular. Middle school students will relate to the first-person narrative in Turning 15 on the Road to Freedom. Seeing history through the eyes of a student will inspire them to stand up for what they believe and make their voices heard. The graphic novel, March: Book One, will speak to high school students.
Additional Resources:
Check out these resources and then leave us a comment to let us know how you plan to help students explore the contributions of African Americans as they relate to voting rights.
(This post was updated February 2022)