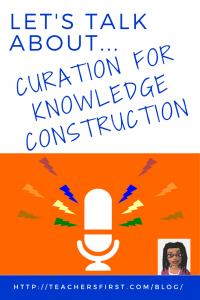 As teachers, we curate things all of the time.  Our Pinterest accounts have boards like "Makerspace Ideas", "STEM Challenges", "Bulletin Board Ideas",  and "Word Walls". Gathering, selecting, and organizing resources takes time, but allows you to hone in on the important nuances of a big idea that you are wrestling with.  It took me a while to understand how to turn that work into an instructional activity. I was pleased to see the concept in the most recent iteration of the ISTE Standards for Students.  It meant that teachers would be guided to use curation as an activity earlier in their careers.
Asking students to show what they have learned has long been an end-of-term project, as in building an art/writing/reading portfolio.  Students are asked to sift through submitted assignments and find examples of their best work. But what if we used curation as formative assessment? Like – explain what you know about circles or haiku poetry or the first amendment. Curation can be done in many ways.  It is an activity that can easily be differentiated. 
In the information age, we have a real need to be able to turn abundantly available information into knowledge through careful consumption.  Students need to be able to seek information about their topic of interest and decide which information is accurate and relevant to their quest by reflecting on gathered media. Afterward, students should share what they have learned in a cohesive way that invites conversation about the topic. Many occupations rely on this type of knowledge transfer, and preparing students to enter the workplace means teaching them these skills.  
Here are a few ideas for lessons along these lines: 
For a high school student in a food preparation course:  Use

Wakelet

(

reviewed here

) to curate a collection of online articles, images, or videos and create a resource to share on how to avoid contamination by foodborne pathogens. 

For middle school physical education: Use

Suan

(

reviewed here

) to curate a mixtape to motivate an athletic team to work together.

For an elementary English class: Our character said, "I was frazzled…".  What does frazzled look like and sound like? Use

Microsoft Sway

(

reviewed here

) to curate a collection of media that represents "frazzled". 
When using curation for an activity or assessment, there are a few essential things to include with the assignment.  First, make sure your prompt includes indicators that learning is taking place in the task description. Ask students to explain something in their own words, make connections between curated artifacts, justify their decisions for including items, or explain why objects have been left out. Second, remember to include a rubric so that students understand what your expectations are. 
Need additional information?  Check out these resources: 
Other curation tools that could try:
Videos about curation in  the classroom:
How do you use curation in the classroom?  Share an idea in the comments below.