Poetry is when an emotion has found its thought
and the thought has found words.

Robert Frost
Next month is National Poetry Month, a celebration of poetry and poets in the United States. Also, March 26 marks the anniversary of the birth of Robert Frost, the well-known American Poet Laureate over 100 years ago.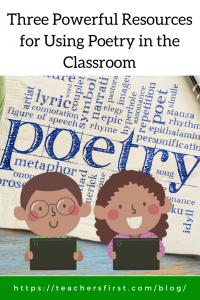 As you look for resources and poetry activities, it is crucial to keep in mind a variety of factors. The top priority should be finding age-appropriate material. Student interest is also essential, finding just the right poetry that engages students opens the door to sharing poems that they might not otherwise find interesting. Also, what are your objectives for using poetry? Do you want to expose students to this genre? Are you teaching specific types of poetry? Perhaps you are integrating poetry into a different topic. All of this makes a difference in your search for poetry materials. 
TeachersFirst offers three curated options for finding the best poetry resources to use across the curriculum and for all grade levels.
CurriConnects Book List – Poets and Poetry:

T

his collection of books based on poets and poetry includes biographies, poets' books about writing, and poetry books for readers from preschool through adulthood. The list offers a summary of each book along with a link to information about the author when available. Be sure to check out the information at the top of the page for suggested classroom uses.

Common Core Connections: The Power of Poetry:

This article, inspired by the work of poet and teacher Georgia Heard, is part of TeachersFirst Help, I Lost My Library/Media Specialist series.  Beginning with a discussion on why we should include poetry in the curriculum, the information provides specific ideas for teaching poetry by starting with key ideas and details and finishing with fluency. At the end of the presentation is a resource list with additional suggestions for poetry books.

Poetry Read-Alouds:

This TeachersFirst exclusive shares a variety of book suggestions for poetry read-alouds divided into three categories based on elementary grade levels. Each list includes recommendations for before and after reading activities. The middle elementary list also contains ideas for continuing the study; these suggestions also work for the other grade levels. 
There are many ways to extend student learning through the use of poetry; one way is through student presentations. Use online resources for students to share their written poetry, illustrate poems they enjoy, or use audio tools to record students reading their poems. The Presentation Tools category in TeachersFirst Edge offers 45 different tools for sharing student work. Try these ideas for a fresh way to share poetry in the classroom:
Wakelet

(

reviewed here

): Ask students to use Wakelet to curate a collection of their favorite poems. As the first entry, use the text feature and have students share a reflection of their thoughts on poetry and discuss why they included the verses shared in their collection. For younger students, create a class collection that features students' poetry creations. Keeping your district's privacy policy in mind, consider including videos of students reading their work.

Tour Creator

(

reviewed here

): Have students create a virtual tour of poetry that takes readers around the world to read poetry from a variety of authors. Add information links to add poems onto images related to the included piece.

Glogster EDU

(

reviewed here

): Create interactive, multimedia posters using Glogster EDU. Ask students to work individually or in pairs to create a presentation about their favorite poet that includes images, video, weblinks, and even 3D and virtual reality content. 
Do you have plans to celebrate the life of Robert Frost or the upcoming National Poetry Month? We would love for you to share your ideas and your suggestions for engaging and enhancing learning through poetry in the comments below.