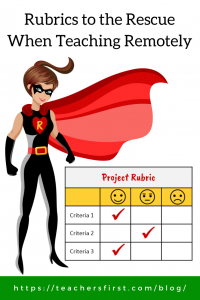 As educators provide lessons through remote teaching, one question is how to assess student learning effectively. Schools and districts are taking varying approaches. Some schools don't have assessment policies; others have specific guidelines by grade level and subject for required assessment and recording of grades.
One of the features of remote learning that many teachers enjoy is the ability to provide a wider variety of options to their students for education. Instead of worksheets, book reports, and quizzes, many educators provide choice boards that offer students the choice of topic and a variety of methods for sharing knowledge. Sometimes assessing projects is more complicated than marking student work as right or wrong; that is where rubrics provide flexible scoring options that match up to the task at hand.
Another important reason to use rubrics is that the implementation of rubrics has proven to improve student performance up to 3.5 times over original performance in writing (Washington University Critical Thinking Project Kelly-Riley, Brown, Condon, & Law, 2001). The authors conclude that one reason for improved performance is due to providing students with clear performance guidelines, along with examples of the highest level of performance.  
Several years ago, TeachersFirst created a comprehensive outline called Rubrics to the Rescue to assist educators in learning about and using rubrics in any classroom. This resource contains guidelines for using rubrics, how to involve students in creating rubrics, and a variety of resources for creating rubrics or finding ready-made rubrics. Rubrics to the Rescue includes all you need to incorporate the use of rubrics to assess any remote learning project. 
Some easy to use resources from Rubrics to the Rescue include:
Rubistar

(

TeachersFirst review

) – Rubistar offers tools to create rubrics or choose from ready-made options. Create an account to save and edit rubrics to fit your teaching situation. 

Rubric Maker

(

TeachersFirst review

) – Use the provided templates to fill in the banks to create rubrics. Be sure to scroll down on the home page to find examples to use with primary, elementary, and secondary level students. Examples include tools for evaluating science experiments, postcards, research projects, and many more.
Schools and organizations also share rubrics; use them as a guide to creating assessments that fit your needs and fall within any guidelines you are required to use for your school. 
Jordan Teaching and Learning shares an excellent group of

writing rubrics

for grades K-6. Each grade level includes rubrics for a variety of writing genres, including opinion, narrative, explanatory, and others.

ReadWriteThink

(reviewed here

) –  Use the keyword search in ReadWriteThink to find rubrics for virtually any need. The first page of your search provides rubrics for timelines, Venn Diagrams, oral presentations, and essays along with others. Click any of the links to access the PDF version to print and use, or modify the template.
Assessing student learning through rubrics provides you, your students, and their families guidelines for learning from home. Include the rubric with assignments so that everyone understands expectations. Be sure to use consistency with scoring and provide appropriate and helpful feedback.
Do you have suggestions for using rubrics with your remote learning situation? Have you found something that works well to share with others? Maybe you need some additional help, feel free to share your thoughts in the comments.