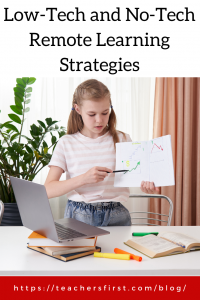 Forced to abruptly transition from face-to-face to remote instruction with limited support, veteran and novice teachers strived to implement online environments conducive to active student learning. There are many factors educators need to consider to meet the needs of their students thoughtfully. We can celebrate that technology assists us as we navigate these challenging times. But while there is a myriad of high-tech ways to engage students, our current situation highlights the impact of the digital divide.
The pivot to remote instruction has revealed the inequity of learning at home compared to learning in a classroom. When planning face-to-face instruction, teachers typically provide students with choices for how and what they will learn, how the classroom looks and feels, and how they will demonstrate their knowledge. These options all represent pathways to differentiated instruction and are easier to control in the traditional classroom. (To learn more about differentiation, see this blog post written by Dr. Ruth Okoye.)
To serve their students' learning needs during remote instruction, teachers must be creative with differentiated solutions. When home, students may have limited internet connectivity, have to share devices with siblings and parents, or have no technology access at all. To provide equitable education, teachers must offer low-tech and no-tech remote learning opportunities. Choice boards are an excellent way to differentiate instruction both in class and remotely. 
Engage & Inspire: Choice Boards for Differentiation, an OK2Ask® virtual workshop, focused on creating and using choice boards based on Tomlinson's model for differentiation. Blended learning expert Catlin Tucker provides an overview of choice boards and offline activities in her post,  Offline Choice Boards: How Are You Integrating Offline Learning into Your Online Class? Listed below are low-tech and no-tech strategies to differentiate the content, process, and product for students during remote instruction.
Content
Send video files for students to download at the beginning of the week instead of streaming them.

Offer text passages from video transcripts for students to download and read or audio-only files. 

Provide students with a blog post-style summary of course videos in slides or a document. 

Use a resource like

ReadWorks

(

Reviewed Here

) to provide files of passages for students to download instead of reading online.

Create

PowerPoint

(

Reviewed Here

) or

Google Slides

(

Reviewed Here

) presentations with high-tech, low-tech, and no-tech content choices for the students to download at the start of the week.
Process
Offer a digital choice board or playlist for students with offline and online choices of activities of varying complexity. 

Provide suggestions for manipulatives or resources found around the home.

Allow students more time to complete assignments to address limited connectivity.

Challenge students to write a reflection about the learning process of the activity.
Product
Provide students the opportunity to take pictures of written work to submit at the end of the week.

Create assignments where students can sketch pictures to show what they know. 

Encourage students to complete or create offline scavenger hunts.
New learning environments present new opportunities, and low-tech and no-tech approaches can facilitate equitable instruction. How are you offering low-tech and no-tech choices for your students? We would love to hear your thoughts and teaching ideas – be sure to share them in the comments below.