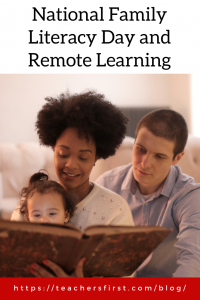 Our current situation has magnified the importance of connecting with our students' families and the community, but it's a crucial time to help families connect with their children. Caregivers and parents play a critical role in a child's literacy development. Much has fallen in our students' families' laps as they navigate the challenges of remote learning, which has tasked families with assuming more responsibility for their child's education. An integral aspect of student learning and success is the involvement of families in the learning process. Author Emilie Buchwald wrote, "Children are made readers on the laps of their parents."
November 1 marks the start of National Family Literacy Month and we wanted to place ideas and resources to engage families with literacy during remote learning in teachers' laps. As our families work through these challenges, providing family engagement opportunities will strengthen the school to home partnership. A solid and supportive partnership between families and schools is the keystone for student success.
TogetheRead (Reviewed Here) is a fantastic resource from TeachersFirst to share with families to engage learners from pre-school to adults. TogetheReads provides information for families on sharing and discussing books. Place the link to Togetheread on your class communications for parents and guardians to access. A new theme posts each month and activities for each age-level to match with the theme. Reading strategies interweave the TogetheRead questions and activities, so families can build good reading skills as they talk and have fun. Provide families with information about your classroom's literacy experiences to make connections to at-home literacy fun.
Invite students' family members to read a favorite picture book on Flipgrid (Reviewed Here) to share with the class. A "First Chapter Friday" activity, where families read the first chapter of a book on Flipgrid for students to review, is another fun way to promote new literature and genres to students. Students can also post book talks on Flipgrid to share new book choices their classmates might enjoy.
The Timeline tool from ReadWriteThink (Reviewed Here) is an engaging resource for remote learners to create a timeline of their reading journey. The students can interview family members about their literacy journey and create a timeline of their experiences with references to books they enjoyed throughout their young lives.
TeachersFirst Reading Treks create a virtual field trip of resources about a piece of literature or text using the My Maps feature of Google Maps. TeachersFirst provides a growing collection of Reading Treks to engage students and their families.
Curate resources for your families using Wakelet (Reviewed Here) to share on your classroom communication mediums. TeachersFirst has a collection of ELA resources for teaching remotely. Reading Rockets (Reviewed Here) has a Start with a Book page for families grades 1-6 to find books based on topics of interest.
Stress about health, finances, and their children's academic success currently consume our families. Much of what we are experiencing is out of our control, but teachers have the opportunity to establish and maintain fundamental relationships with our families through remote literacy activities. Use National Literacy Month as a way to provide your families with strategies to enhance and empower their child's love for literacy and provide an emotional lift during this time of uncertainty. Eventually, we will emerge from our physical distances as a connected community with a passion for learning.
How do you celebrate Family Literacy Day? We would love for you to share your ideas with our readers in the comments below.