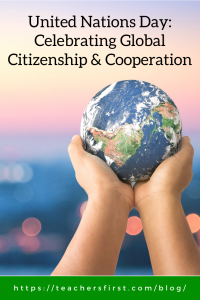 October 24 marks a milestone event for the United Nations: the 75th anniversary of the UN Charter. Founded as a collective action to support peace, development, and human rights, the UN is represented by 193 sovereign states. This year's United Nations Day celebration focuses on global cooperation for building a better future.
This anniversary serves as an excellent lead-in to teaching students about the United Nations and the importance of understanding global citizenship. Learning about the complex relationships and interconnectedness of global communities encourages students to understand their role within the world's broader context and not just within their local community or country.
What resources can I use to teach global citizenship?
What has the United Nations Ever Done For You? (reviewed here) – This interactive offers users the ability to see the world through many different perspectives. Choose a gender, age, and country to learn about the United Nations' role in fighting disease, discrimination, and environmental impacts specific to your choices. This interactive is appropriate for use with middle school and high school students.
Kid World Citizen (reviewed here) – This site focuses on sharing global information with elementary-aged students. Use the Map Search link to find information on specific countries or browse to find content for geography, art, celebrations, and more. The author of the site is an ESL and Spanish teacher who shares the site as a way for educators to increase global and cultural awareness.
Reading Treks – These virtual field trips use Google Maps and literature to engage and immerse readers in a literary experience. In addition to the interactive map, each Reading Trek includes an instructional strategy handout that provides curriculum standards, teaching suggestions, and additional activities. Learn more about Reading Treks here.
Incorporate Tech to "Show What You Know"
Many digital tools provide options for students to demonstrate learning. Here are some resources that extend student learning and connect learning about the United Nations to students' everyday life experiences
Google My Maps (reviewed here) – Have students create and share custom maps that take viewers on a virtual tour anywhere in the world. Ask groups to select a country or continent to research based on information found during your global citizenship lessons. One suggestion is to use the topics found in the United Nations interactive as a starting point to compare and contrast data from different locations. Use their findings to add photos, videos, and drawings to the map to share students' stories.
Book Creator (reviewed here) – Book Creator offers incredible tools for digital storytelling. Create digital books that include images, videos, text, and much more. Book Creator also allows easy integration of other applications, including Flipgrid (reviewed here), Google Maps (reviewed here), and YouTube (reviewed here).

15 Social Studies Projects for Book Creator Classrooms – This book provides many ideas for integrating Book Creator into social studies lessons. Look at page 16 to find the Imaginary Country Project. Use this idea to encourage students to share their creativity in designing a country that includes holidays, a flag, a national song, and ideal geographic features.

Skype in the Classroom (reviewed here) – Skype in the Classroom promotes global communication through virtual field trips, Mystery Skype activities, collaborative projects, and guest speakers. Use these resources to bring global understanding to life through any of these methods. Use the search to find classrooms or speakers from specific locations or browse through the offerings to find topics of interest to your students. If you are new to Skype in the Classroom or haven't participated in a while, be sure to download the Getting Started Guide. The guide contains a complete overview of how to make the most out of each experience.
You and your students don't need to leave the classroom to travel the world and learn about different cultures. Developing an understanding of people around the world promotes empathy, respect, and an appreciation for differences.
Take advantage of United Nations Day to think about you and your students' role in the global community and expand their global view. What do they want to learn? How do you encourage curiosity to build understanding and awareness of others? Using these virtual resources and others provides many opportunities for understanding other cultures.
We love to hear from our readers! Share ideas on how you teach global citizenship in the comments. Remember, the global community includes global educators working together!