Elink is a tool that allows you to curate and bundle online content. You can create websites, newsletters, and playlists to differentiate material for your students. Throughout this blog post, you will hear elinks referred to as instructional playlists, resource curations, websites, and newsletters—all of these descriptions are correct, depending on how you use the tool.
This tool allows you to select a template or start from scratch and includes options to customize the header text and image, adjust your color themes, select a layout, add links, and more. Elink also offers the capability to collaborate, which could work well if a team of teachers is working on the same content. You can also add formative assessments and reflection opportunities by adding links to some of your favorite web tools, such as Padlet (reviewed here), Flipgrid (reviewed here), EdPuzzle (reviewed here), and Kahoot (reviewed here)! When you're finished, you'll receive a link that you can share with your students. Although teachers can create elinks for personalized and differentiated learning for all grades, students creating their own elink must be 13 years of age. For the purpose of this blog post, we are highlighting ways that teachers can create elink playlists or websites to personalize learning activities, but students ages 13+ could also create a newsletter or playlist of websites as a "show-what-you-know project."
Are you new to the idea of a playlist? Think of it this way: a digital playlist is simply a sequence of resources/activities for students to complete. There are many digital tools like elink that you can use to create playlists, which offer an easy (and engaging) way to personalize learning for all of your students. Use an instructional playlist as a simple way to honor student voice and choice while also structuring the work your students do independently. A playlist may be assigned for one day or for an entire unit (or longer). A playlist may be assigned to one student, a small group of students, or the entire class. If you already have class accounts set up on an individualized math or reading website, why not include those sites in your playlist? Using a playlist is a great classroom management strategy, as all students are engaged and don't need the teacher's constant attention. Playlists work for any teaching situation and are also great tools to use for blended, remote, or traditional learning! While elink is a great tool to curate information and collaborate with other educators, it's even more powerful when used to create a digital playlist.
Applying the Triple E Framework
The Triple E Framework, created by Dr. Liz Kolb, is built on the belief that "effective technology integration begins with good instructional strategies and not fancy tools" (tripleeframework.com). Dr. Kolb wrote a book on the topic, Learning First, Technology Second (ISTE, 2017), that lays out the three main uses for technology in education: to Engage, Enhance, or Extend learning goals. We can use this framework to decipher why we are using specific tools in the classroom. Here is a rubric based on the Triple E Framework you can use to evaluate whether elink (or any other technology) is a good fit with your learning goals and whether you should use it in your lesson.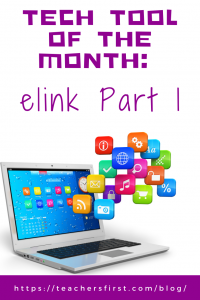 Engage in learning goals: Elink helps motivate students to begin the learning process by engaging them in the activities. The elinks are presented in an organized and non-distracting manner, and resources are curated, shared, and easy to navigate. When using elink, students take on the role of active learner as they view and participate in the online content that has been shared by their teacher. Elink allows students to complete the lesson in a self-paced format where they are able to rewatch or reread content before moving on to the next part of the assignment. Students are more focused on the task because they are engaged in online activities as they work at their own pace and at the appropriate level.
Enhance learning goals: Scaffolds and supports can be written into the playlist, allowing elink to enhance learning goals. Teachers can differentiate and personalize for their students, allowing them to complete activities that have been created and shared specifically for them. Activities are not isolated in workbooks or stand-alone, but rather connected by the teacher that created the elink.
Extend learning goals: Dr. Kolb describes extended learning as an opportunity for students to learn, connect, and collaborate outside of the regular school day and as a bridge between the school day and real-life experiences. This tool would work well with flipped, blended, and remote learning lessons, as students could complete the activities in an elink playlist at home or in school. We are preparing our students for a world that doesn't exist yet, but most jobs do require independent motivation and knowledge of technology. Elink allows students to practice skills they will use in the future, as many classes and careers will require students to use technology and to work through various steps of lessons or projects to completion.
SAMR Connection
The SAMR Model, by Dr. Ruben Puentedura, suggests that technology implementation has four levels. We can use this model as a guideline to analyze how we're using technology tools in the classroom. Elink, used as a playlist or curated collection of web tools shared with your students, would be considered at the Modification level of SAMR.
Modification: At this level, the technology allows for a significant redesign of the task. The ability to add interactive websites (such as Padlet or Flipgrid), videos, and more offers functional improvements and significant redesigns of the task that would not be possible without technology. Another functional improvement is the ability to rewatch or pause videos to deepen understanding. These clickable options could not be done using a regular textbook. The interactive websites also offer a significant redesign of the task, as students can now complete reflection and formative assessment throughout elink lessons.
Don't miss Part 2 of the Tech Tool of the Month: elink, where we'll discuss how to use the tool and introduce ways to use it in the classroom. In the meantime, let us know in the comment section below how you have used elink in your education setting.