In Part 1 of this blog, we introduced you to Blooket and discussed the application of both the SAMR Model and the Triple E Framework to help you integrate Blooket into your instruction. Today's post offers detailed instructions for using this tool and shares classroom use ideas by subject.
Blooket:
As you arrive at the site, you will be asked to Login or Sign Up. If you do not have an account, click the Sign Up button to begin registration.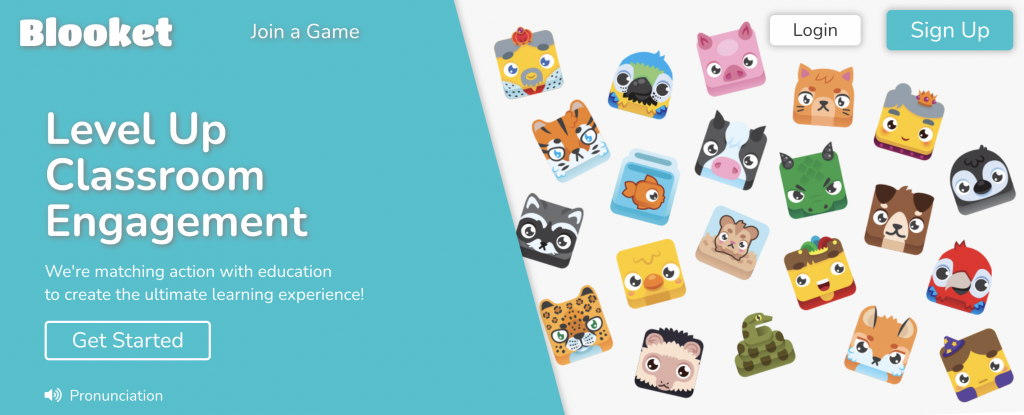 You can create an account using your email address or your Google account information.
When you sign up, you will need to provide a username, click to say if you are at least 13 years old, and then if you are a teacher or student.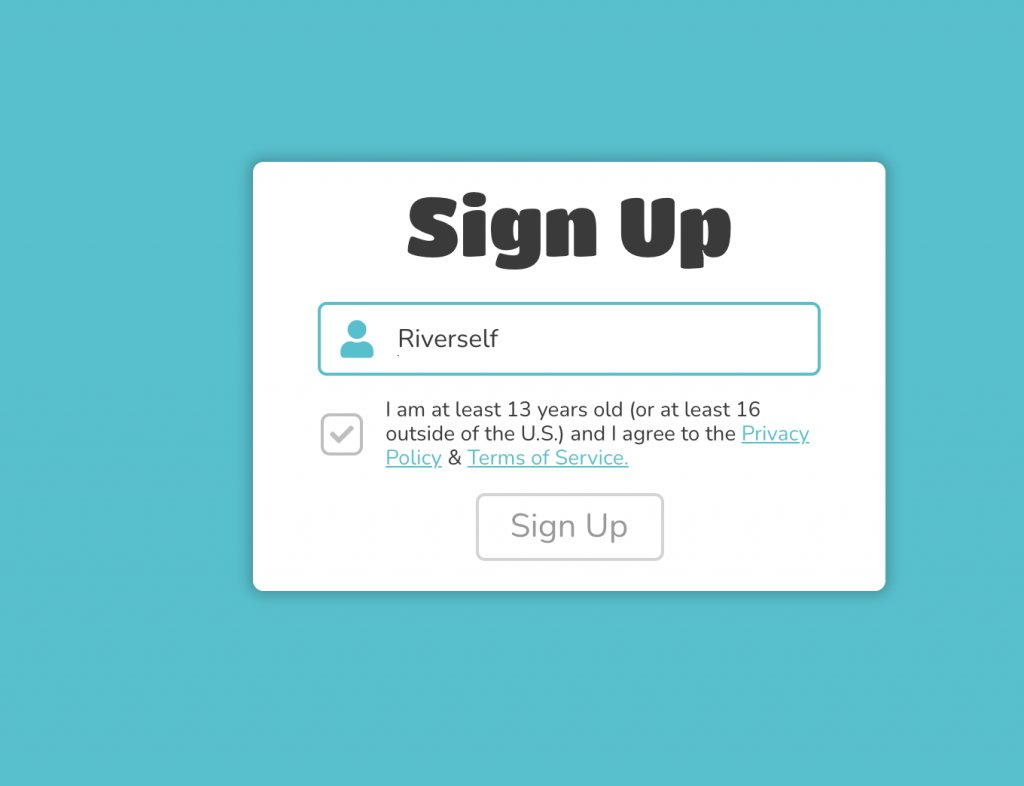 Once you are registered, the site provides a Welcome Tour to learn about some of the features of Blooket.
Simply put, creating a Blooket is three steps. First, you can pick if you want to create your own questions or use an already-created question set. Next, you decide on your game mode. And finally, the teacher can either host a game or share the code for students to complete on their own.
Now you are ready to begin to create your questions. You can click to Create a Set, this allows you to start from scratch. Or, you can click to Discover Sets, and search the 1,000s of sets already-created.
At the Discover Set area you can search for topics, or just peruse the variety of games. Each set of questions shows you how many times it was played, how long ago it was edited, who created it, and what the topic is of the questions.
When creating your own questions, a title is required. You also have the options to add a cover image and description. You can set your questions to be public or private. We always suggest keeping sets private. You can also manually type your questions or import the questions from Quizlet. If you choose to import your questions from a Quizlet, it can be from any set of questions at Quizlet, not just one that you have created. Blooket provides detailed instructions on how to use Quizlet questions. No matter what you pick, the questions are all in multiple-choice format.

If you are importing questions from Quizlet, click the button to import and follow the step-by-step instructions.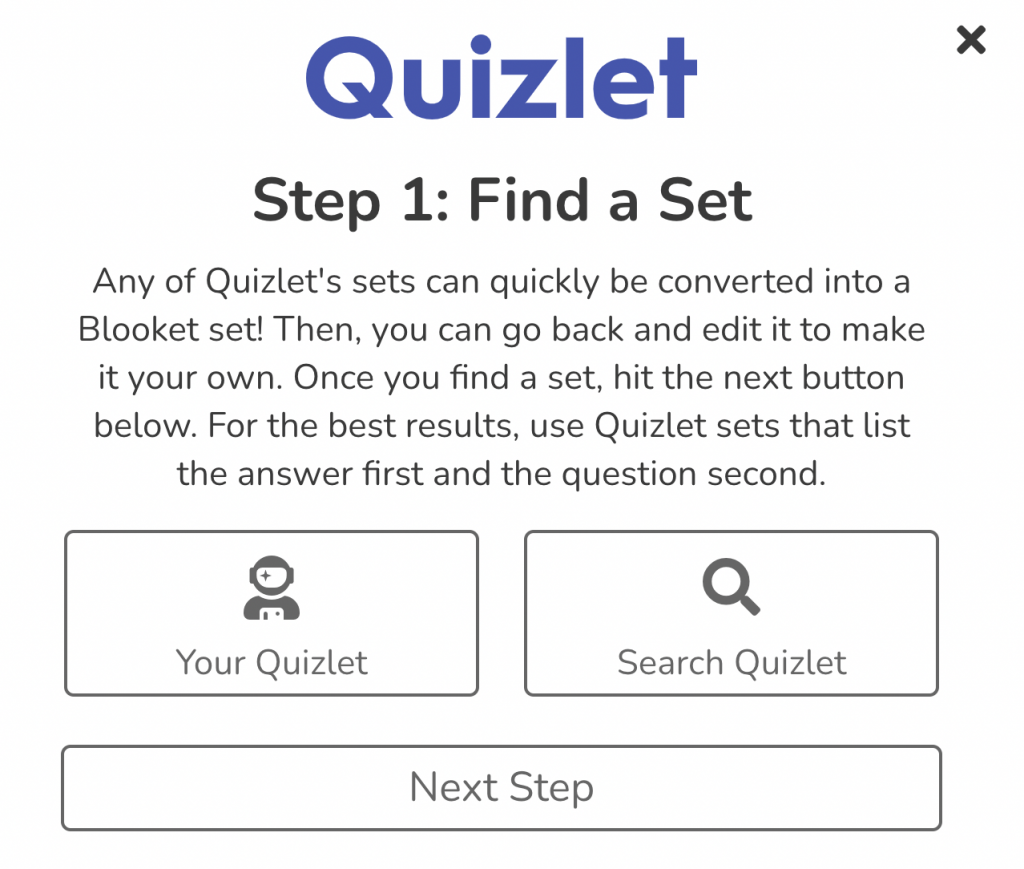 As you begin to add your own questions, you are required to include the question text and 2 answer options. You can add an image, and 2 additional answer options.
Once you type in the information, click the checkmark next to the correct answer. Next, decide on the time limit for responses and if you would like the questions put into random answer order. Be sure to click Save when finished.

As you are creating your questions, you can edit as needed. This is true for both the questions that you create and the Quizlet questions that you import. You can also change the amount of time per question or even delete questions. This is especially helpful if you import a Quizlet set and don't wish to use all of the questions within that set.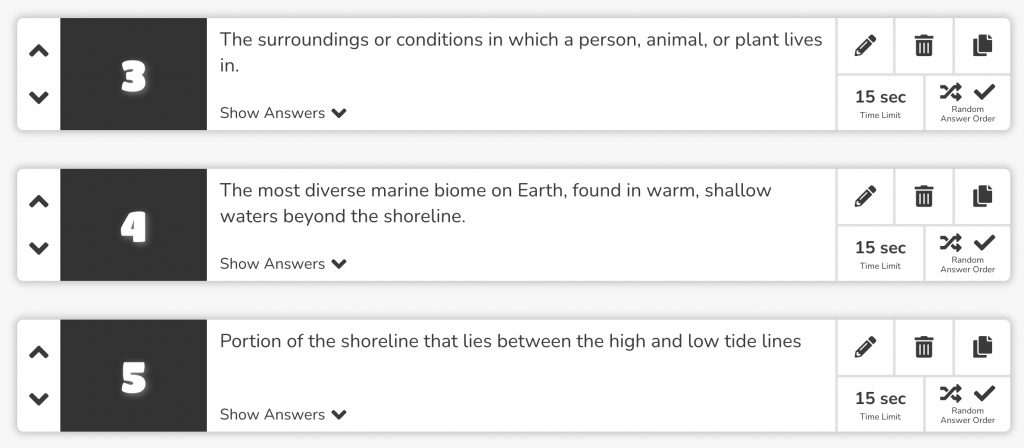 Now let's talk about the game options. Once your questions are all set, it is time to decide which of the nine games you would like to use. A few of the games (shown below) can be used in Host mode or Homework (HW). This means that they can be completed in class as a teacher-directed activity or asynchronously as homework as part of blended or remote learning lessons. Each game includes a description, player limit, and number of players suggestion.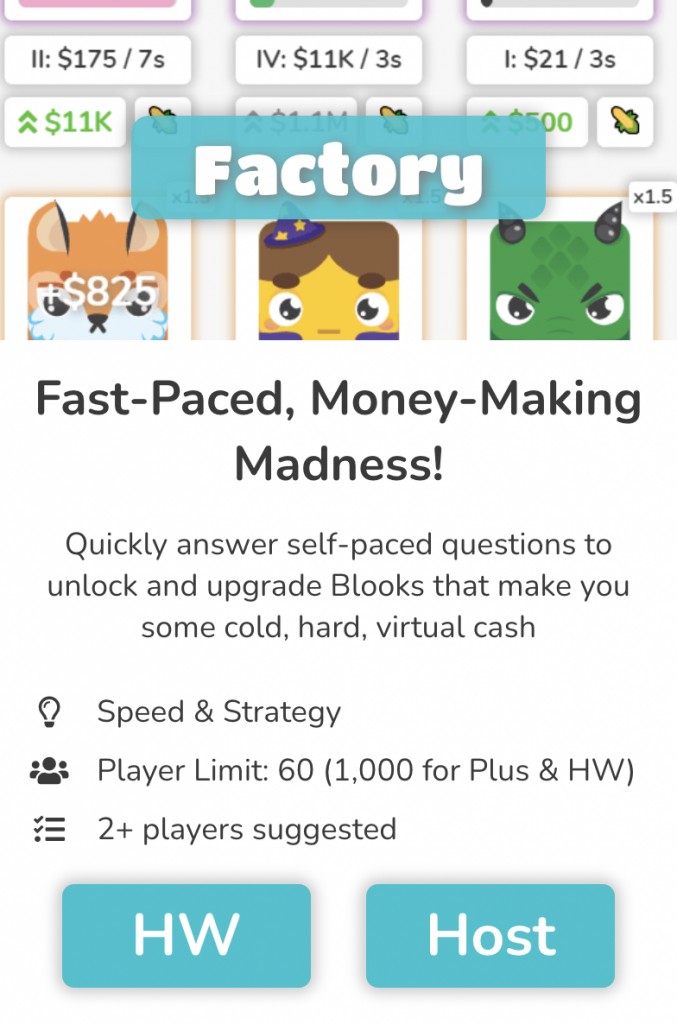 The games listed in this section can only be teacher-led as a Host game.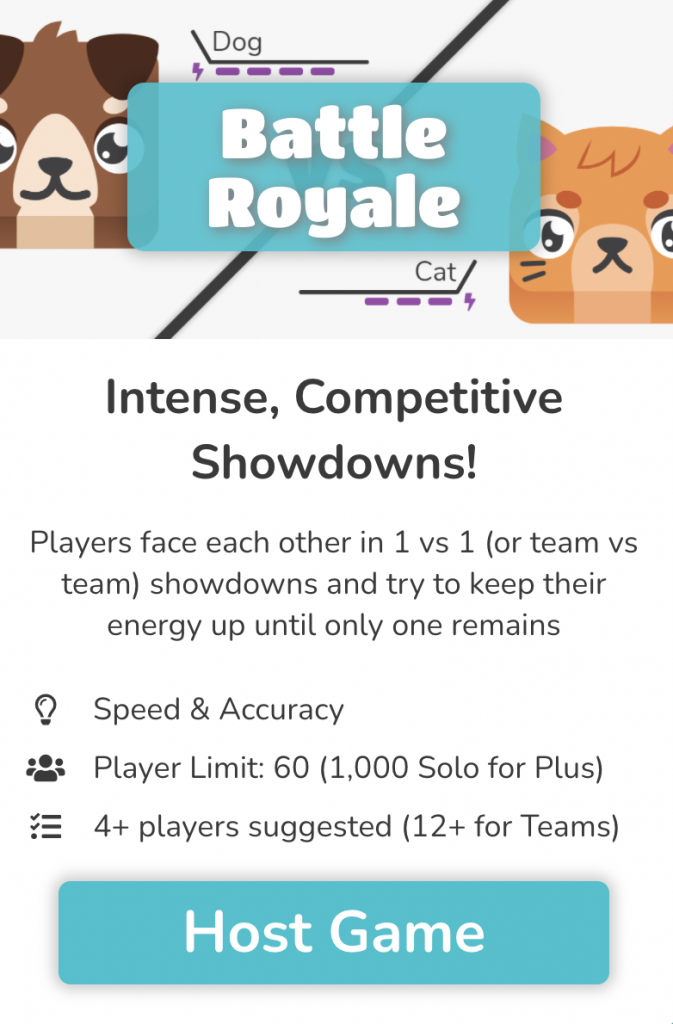 There are also a few games that can only be assigned as Homework.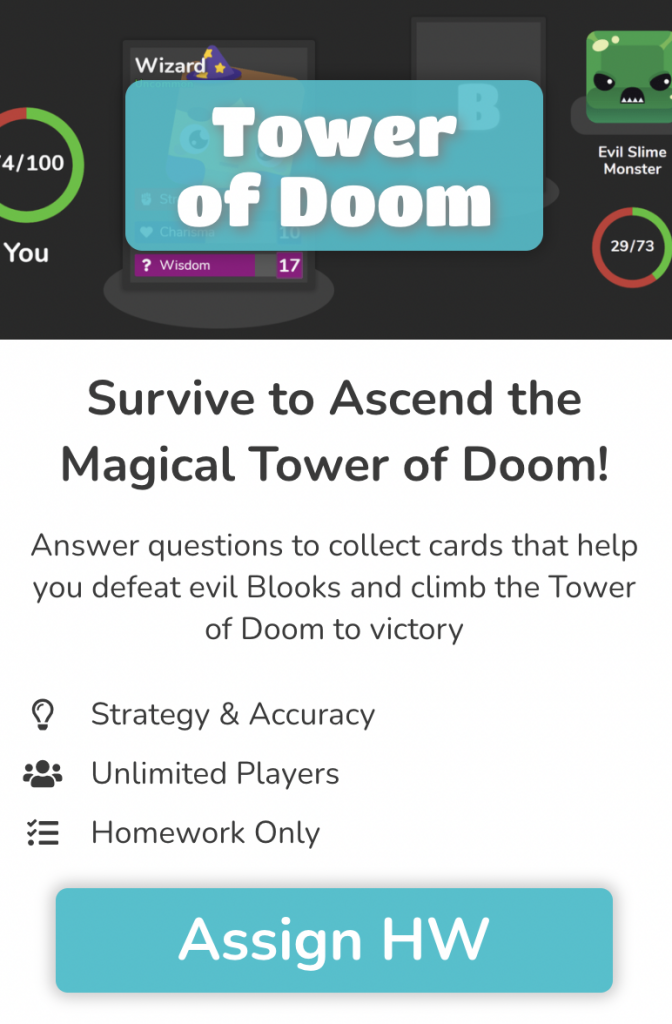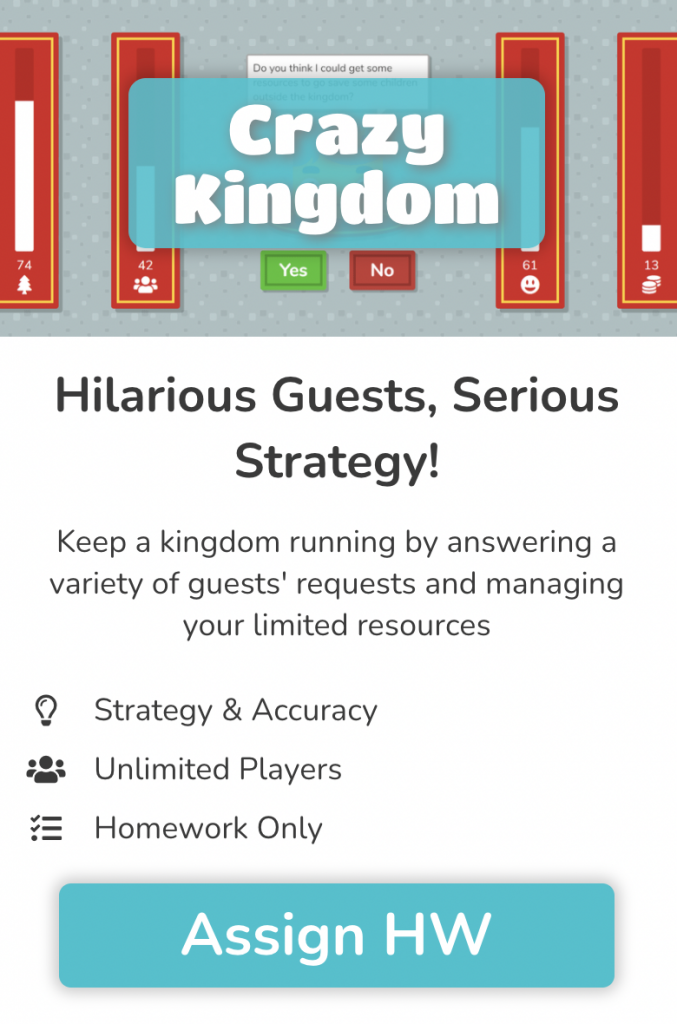 You may recall earlier in this blog post, we mentioned Blooks, a game piece that is used as an avatar throughout the game. Many of these are free and ready to use. Some must be unlocked as you move up and earn points.
Now that your questions are ready and your game is chosen, you are ready to share the games with your students. If you are going to Host a game live in your classroom, there are a few more steps to finish up your preparations for the game. You can decide if you want the game to end based on time or Cash earned in the game. You can also decide if you want Power-Ups and if you will allow late joiners.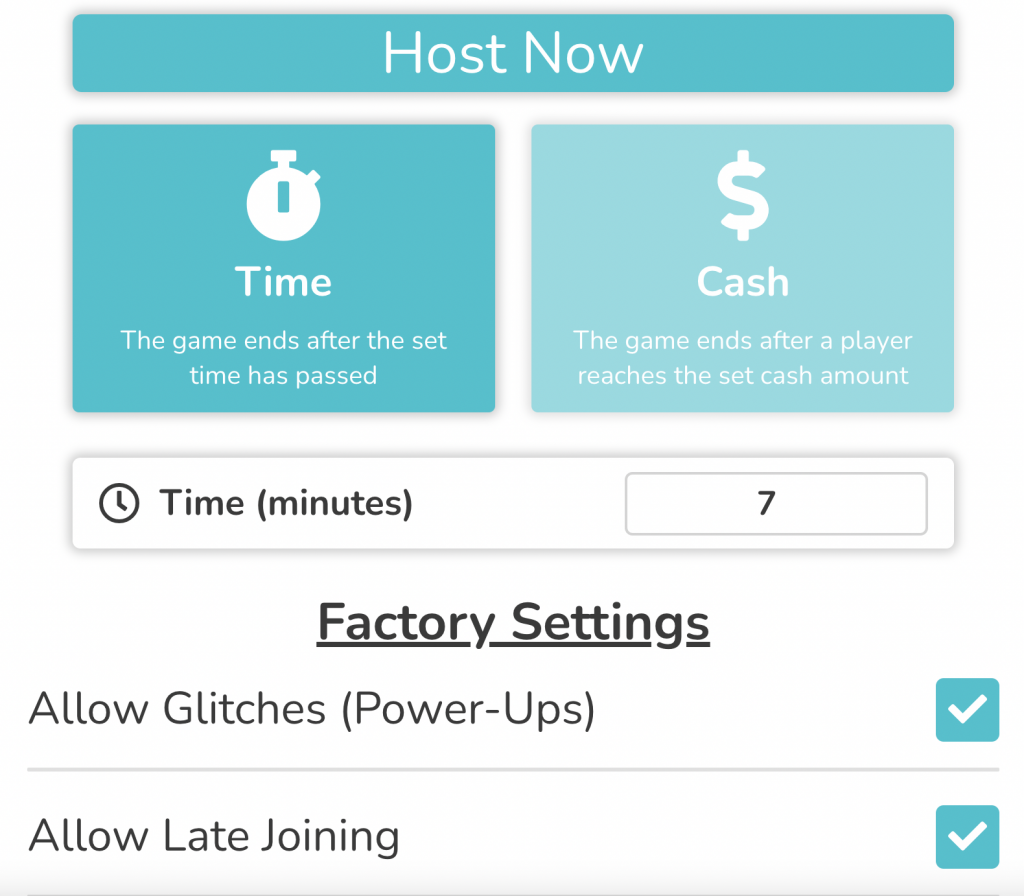 As students join, they will see a screen with the code to input to begin their game.

Students just enter the code from their view.
If you are using the Homework option, you can decide how many days students have to complete the assignment. The maximum amount of days is seven. Click Assign Now and you are ready to go!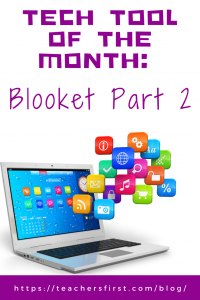 Classroom Use Ideas:
Blooket offers students an engaging game-based learning option for traditional, blended, and remote learning. Teachers could create game sets for nearly any subject area. Below, we've included ideas for using Blooket to review and formatively assess several subject areas—but the only limitation is your imagination!
Create a Blooket about…
Social Studies:
Oceans around the world.
The capitals of the 50 states in the USA.
Places to visit in England.
Korean War.
Causes of the Cold War.
The benefits and risks of interdependence.
The caste system.
Harry S Truman (or any past or current president).
Science:
Systems of the body.
The function of the mitochondria.
Different types of cells
Physics of football.
Solar System.
Biomes of the world
Famous inventions of the 20th Century
The food chain
Math:
Vocabulary in algebra.
The order of operations (PEMDAS).
The difference between median, mean, and mode.
Roman numerals.
Multiplication facts.
Counting to 100.
Personal finance for secondary students.
Adding decimals.
Language Arts:
The difference between too, to, and two.
Defining and identifying proper nouns.
The difference between the mood and tone of a story.
Comparing main characters from a story.
Vocabulary related to a novel.
Subject-verb agreement
The setting of a story
Identifying the main idea or theme of a story.
Art & Humanities:
Famous places to visit in France (in French class).
Instruments from the jazz band,
Music from around the world.
Realism art.
A genre of music, such as blues.
A location that speaks the language taught in a world language class.
Various techniques in art.
Art or music from various time periods in history.
Additional Video Tutorials and Articles:
Have you used Blooket in your classroom or for professional learning? Share your activities in the comments below!