School Counselors provide a unique and vital role within their schools. According to the American School Counselor Association (ACSA), they "lead, advocate, and collaborate to promote equity and access for all students." Their role includes support for both the academic and social-emotional needs of the students served.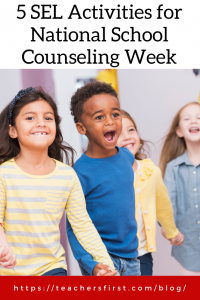 This year's National School Counseling Week theme is School Counseling: Better Together. During the week of February 7, ACSA encourages participants to celebrate school counseling through a daily photo challenge. Daily prompts share ideas for sharing images of school counselors with administrators, teachers, and the community showing how working with others is part of the theme of better together.
It is vitally important to provide social-emotional lessons in today's turbulent world. A quick look at TeachersFirst blog pages shows almost twenty blog posts with the social and emotional tag. Unfortunately, not all schools provide certified school counselors, so often, it is up to the classroom teacher to provide guidance and support.
In honor of National School Counseling Week, let's take a look at some ideas for counselors and classroom teachers to incorporate and promote social-emotional learning throughout the year. This article, 25 Creative Social-Emotional Learning Activities (reviewed here), provides an excellent starting point. The ideas include methods for addressing various issues, including trauma and anxiety. In addition, there is a fantastic section with activities for use in remote environments. The ideas featured in that section also work well for in-person learning.
In addition to the photo challenge, here are ideas counselors and classroom teachers can use to build upon the theme of Better Together:
Social-emotional learning is the shared responsibility of the entire community both within and outside of school. Whether you are a classroom teacher or counselor, engaging students through games, online activities, and interactive conversations provides support through encouragement from others and shared understanding of healthy strategies for coping during times of stress.
Are you a school counselor? We would love to learn how you incorporate social-emotional learning with your students. Classroom teachers, what do you do to support social-emotional learning in your classroom? Share your thoughts and suggestions in the comments below.