In Part 1 of this blog, we introduced you to Big Huge Labs and discussed the application of both the SAMR Model and the Triple E Framework using Big Huge Labs in your instruction. Today's post offers detailed instructions for using this tool and shares classroom use ideas.
Big Huge Labs:
Big Huge Labs does not require any registration for teachers. However, if teachers register for the FREE Educators accounts, students can share projects with the teacher.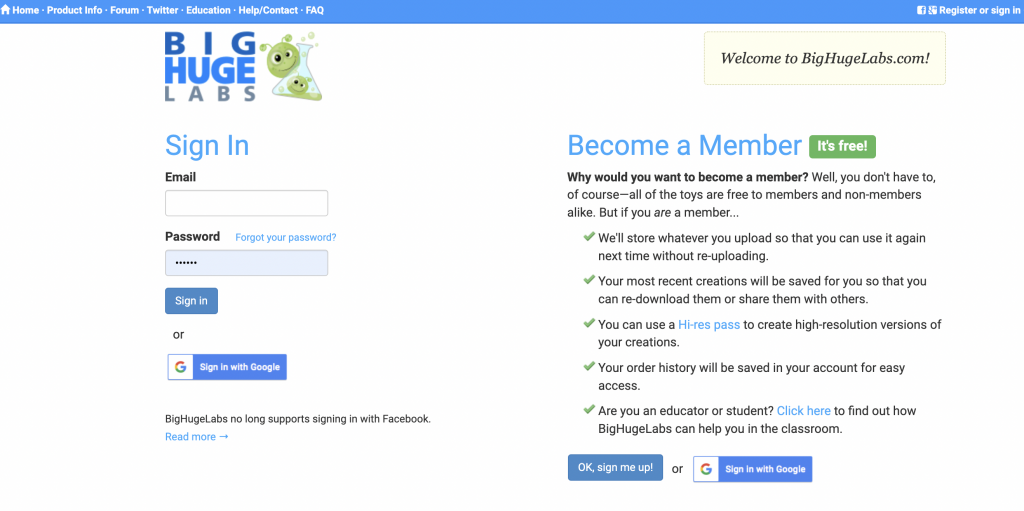 There are many projects to choose between, from Motivation Posters to Magazine Covers to Map Maker and many others. The image shots below share the range of project options.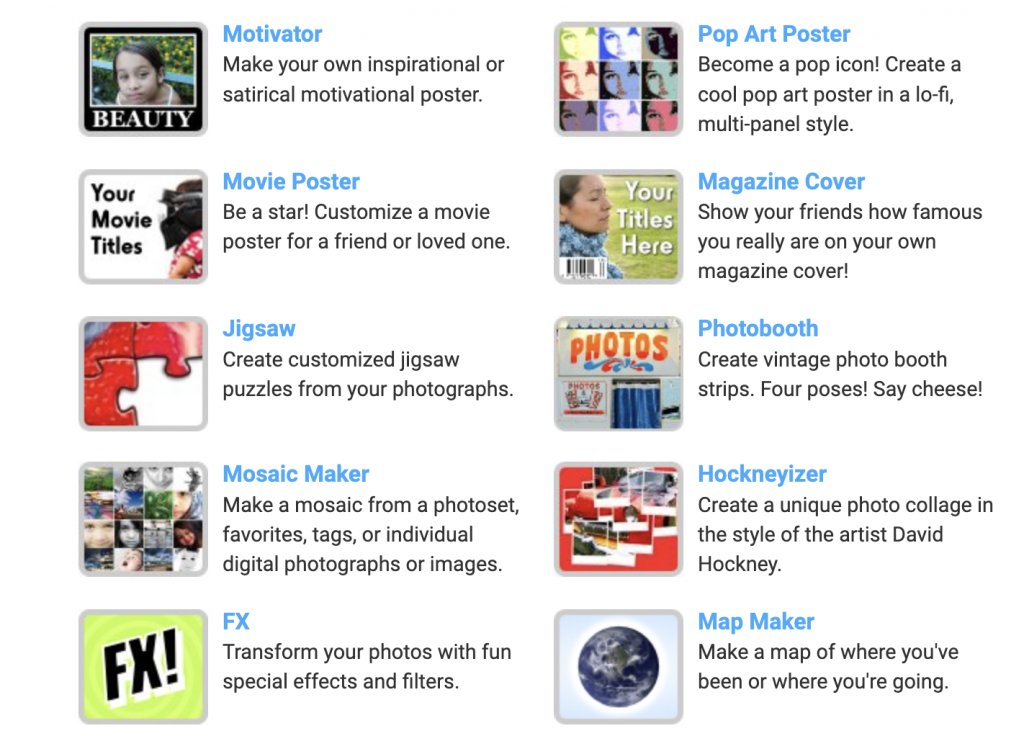 Once students pick their project, click on the title and fill in the blanks with the information that they would like on their project. Most projects allow you to choose the title, font, text, color scheme and upload your image or an image from Flickr, Instagram, or Dropbox.
Find your image and click to add.

Once you click submit, you are ready to share your project. You can download your project to print, or you can share via URL, email, Facebook, or Flickr.
Classroom Use Ideas:
Big Huge Labs provides over 20 projects to create personalized images with text. Registration is not required for students or teachers. However, the Educator account does allow students to share projects with teachers. The projects at Big Huge Labs are ideal for the BYOD or 1-1 classroom. Also suitable for blended and distance learning, finished projects can be shared via URL.
Create image projects about:
Social Studies:
Tourist locations in Mexico.
Famous lakes in America.
The capital city of a European country.
Current news articles or events.
Amendments to the constitution.
How a bill becomes a law.
Jimmy Carter (or any past president).
A battle from World War 2.
Scottsboro boys.
Alaska becoming a state.
Science:
A famous invention of the 20th Century.
Tornadoes.
Physics of ice-skating.
Parts of an animal cell.
The food chain.
DNA.
What makes objects sink or float.
A MakerSpace project idea.
A planet in our solar system.
The phases of the moon.
Math:
Vocabulary in algebra.
Shapes in geometry.
Roman numerals.
How to find perimeter.
Multiplying decimals.
Adding fractions.
The order of operations (PEMDAS).
Defining what range means.
Steps in a word problem.
Creating a budget.
Language Arts:
The difference between your and you're.
Character analysis from a novel read for class.
Vocabulary words.
The setting of a story.
Metaphors vs similes.
Chapter analysis from a book.
The main points of an informational article.
Comparison of two characters from a story.
Proper nouns.
A famous poet.
Arts & Humanities:
Famous city to visit in Spain or Mexico (in Spanish class).
Paris (in French class).
Instruments from the jazz band.
Meaning of vocabulary in world language classes.
A famous artist.
A popular song from the 1920s.
A specific period in art history.
A technique used in art.
An art project done in art class.
A from of dance.

Additional Video Tutorials and Review:
Have you used Big Huge Labs in your lessons? Then, share your activities in the comments below!