In Part 1 of this blog, we introduced you to GoNoodle and discussed the application of both the SAMR Model and the Triple E Framework in using GoNoodle in your instruction. Today's post offers detailed instructions for using this tool and shares classroom use ideas.
GoNoodle:
GoNoodle does not require teachers to register, but signing up for a free Educator Account offers some extra features. To begin, click Educator Log In on the button on the right side of the screen.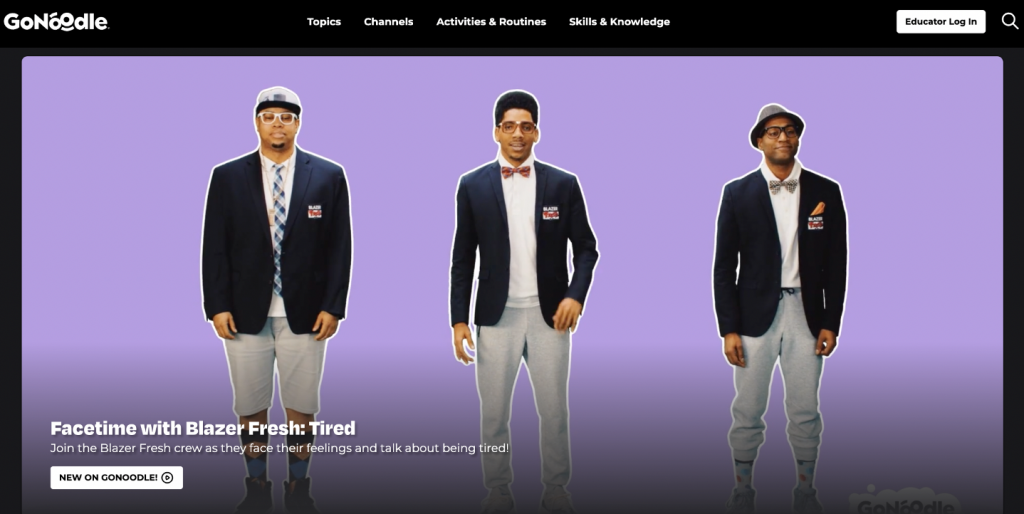 Once on the Educator Login page, click Sign up for a free educator account.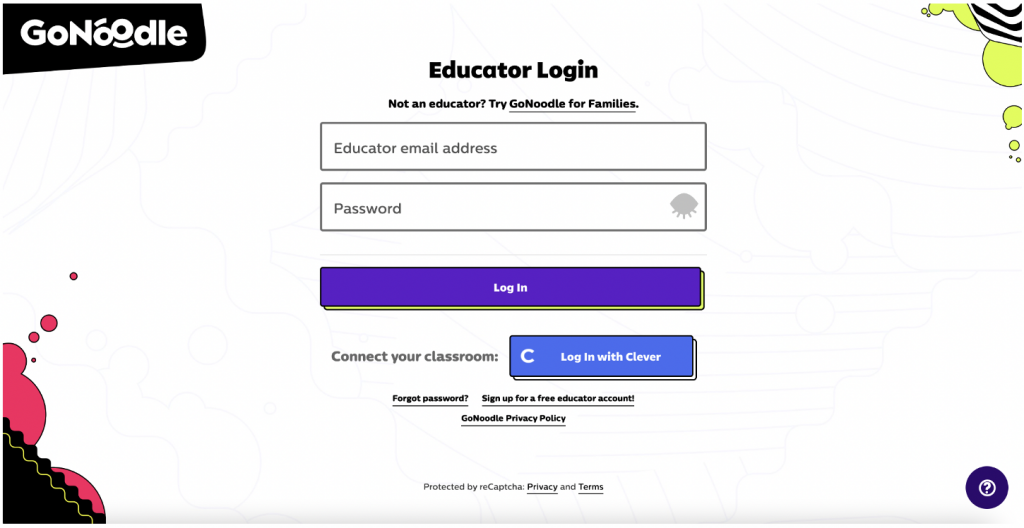 Educators can sign up using email or Clever.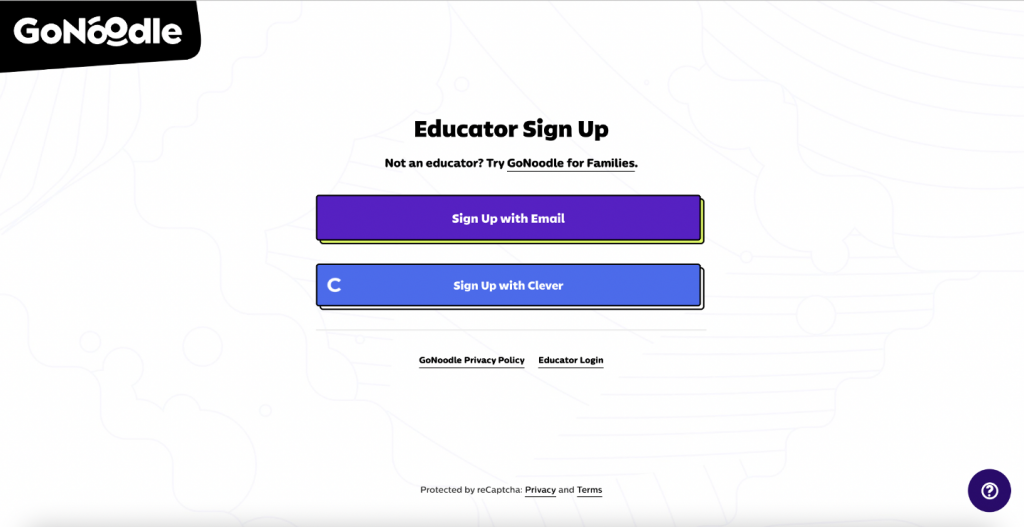 Once you log in, you can explore the home page or click one of the other buttons on the top: Discover, Categories, Channels, or Curricular Resources. Note that each resource's top corner includes an information icon ⓘ you can click for more information and a heart icon to use to add the video to your favorites.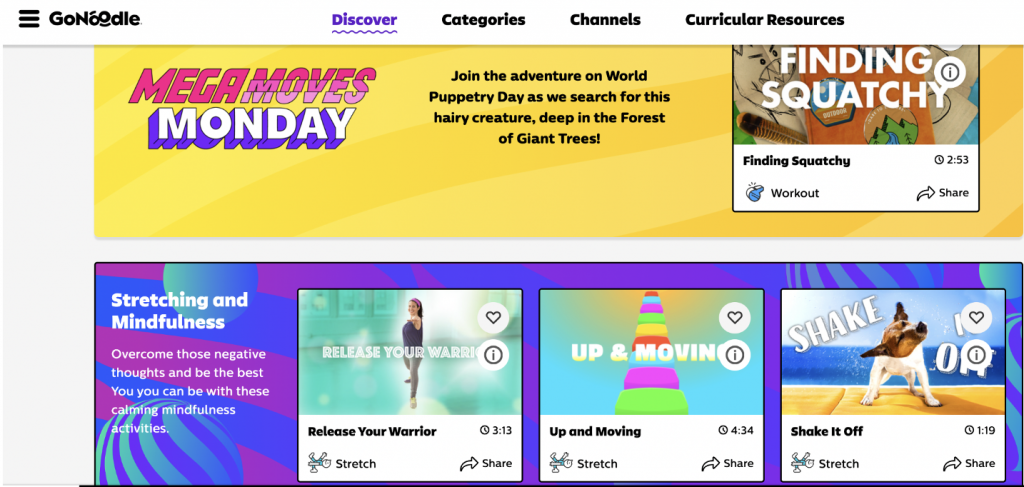 When you click to open up more information, you can view the length of the video, a very brief description, and what categories apply to the video.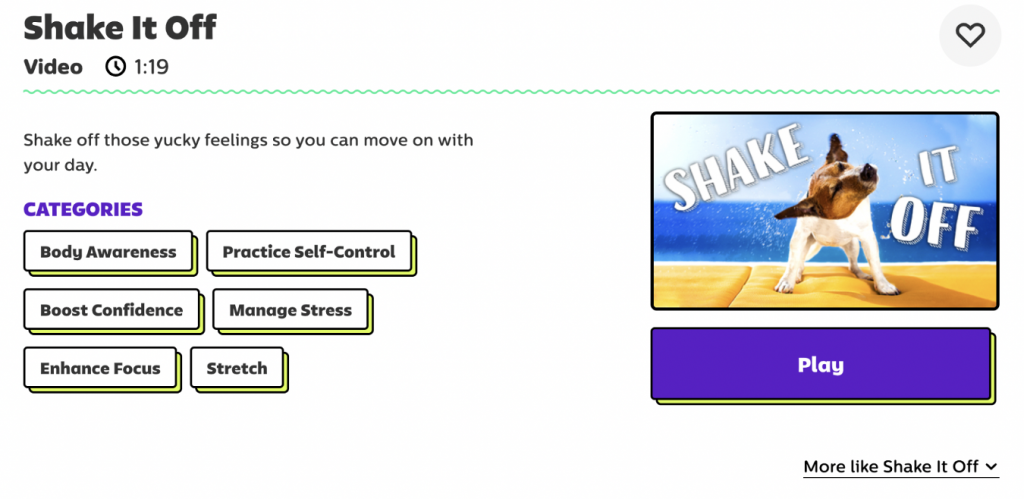 Under Categories, you can explore movement activity videos by topics like curricular area, SEL and mindfulness, sensory and motor skills, school life, and movement type.
There are many topics under the Curricular category. For example, find movement activities to learn about the 50 states or voting.

Here is an example of how the movement videos look. This is a guided dance, so students follow along as the characters show them what movements to do. Notice the button to download additional materials (located between the ⓘ and the heart icons). Click it for more information.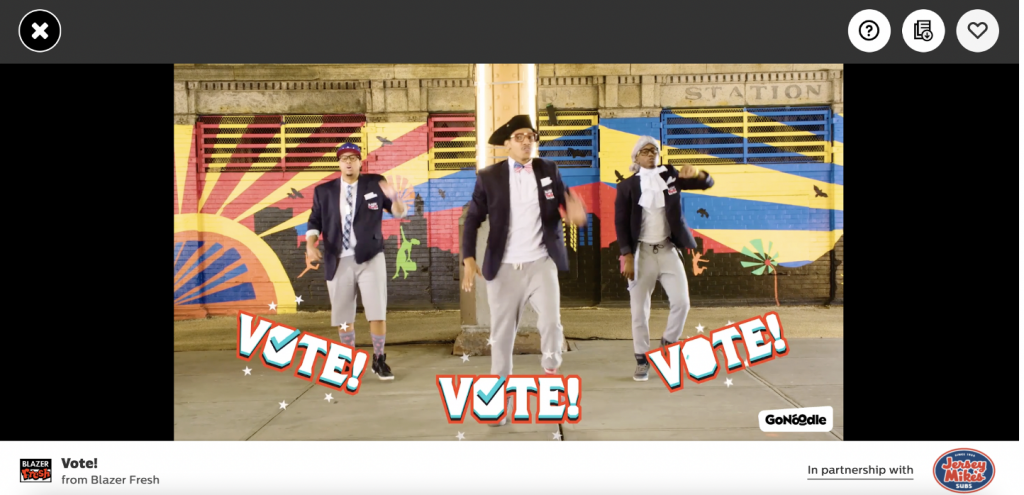 When you click to download the learning extensions, you'll find several online and printable options.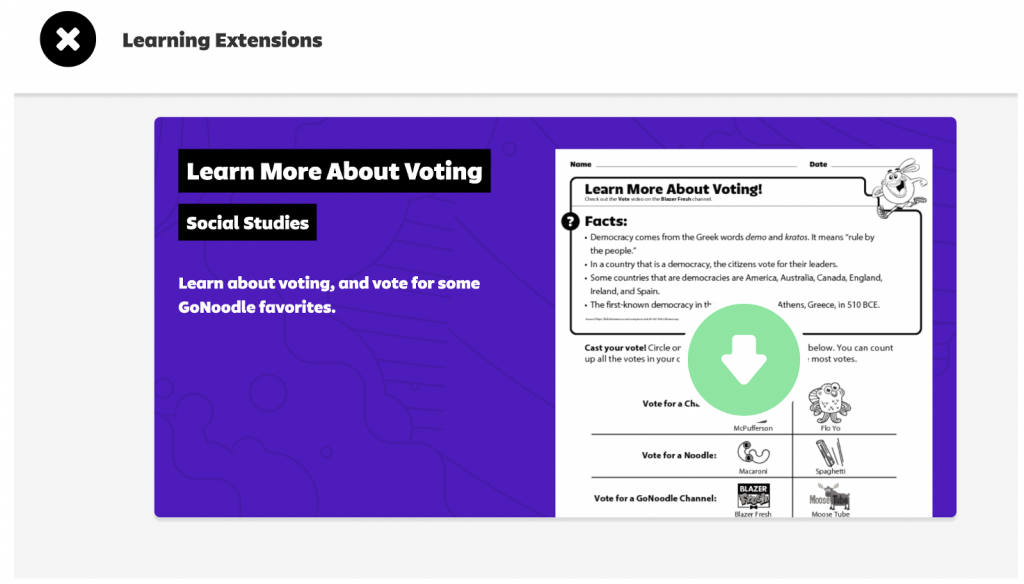 This is another example of a curricular connection. Students use their bodies to create the greater than, less than, or equal sign in this math video.

Returning to the navigation bar across the top, click Channels to explore the site's many content channels to find even more information to use in your lessons. The image below shows a sample of the channels, but this is only a tiny portion of those available.
The next area on the top is Curricular Resources. When you arrive here for the first time, you will be prompted with pop-up instructions for navigating the page. Note that you can filter by subject (ELA, Health, Math, Science, Social-Emotional Learning, Social Studies, and Science) using the right sidebar. The All option brings up all subjects, including some not on the filtering list (such as music).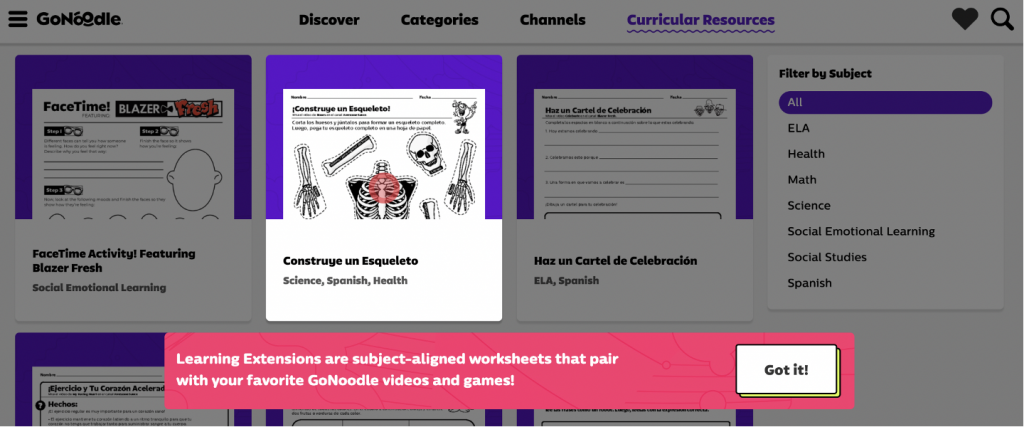 One of the most appealing aspects of the Curricular Resources tab is the ability to create a question set! You can use a question set already on the site or personalize one to meet your needs.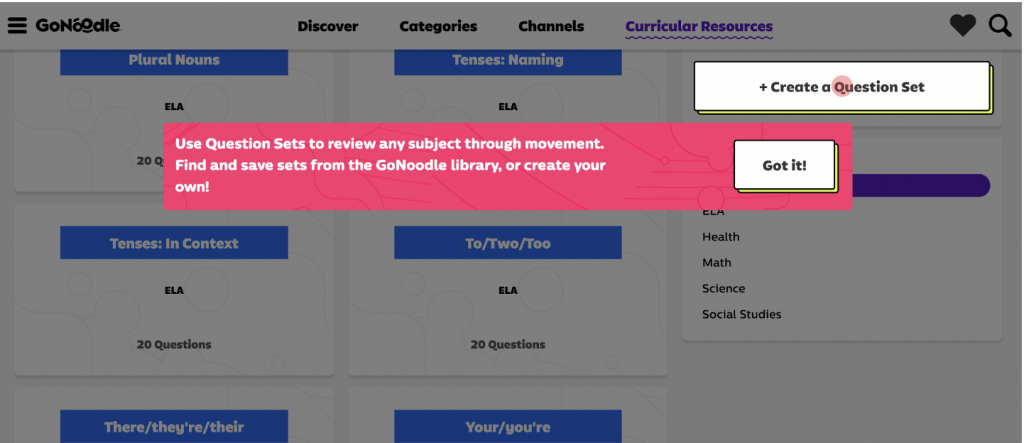 For this example, the class uses the already-created set of "To/Two/Too." Click on the title to begin and view the 20 questions within this set.
You can preview the available questions in the set, but the best part is yet to come.
Once you have chosen your set, you can pick a game to ask your questions using movement! This is a great way to learn, practice, and review.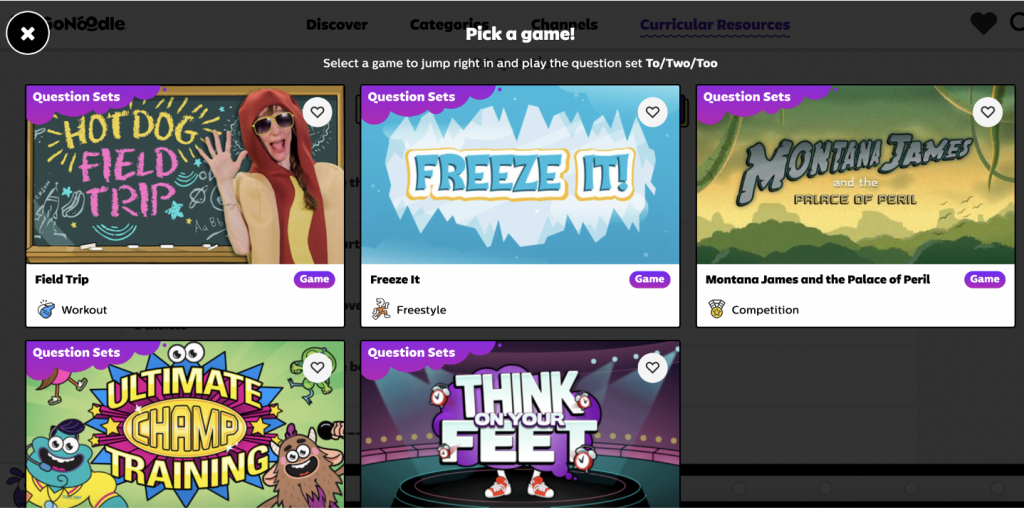 The homepage also has a few additional features. There is a chat box available on the right side, while the left side of the screen provides an option to share with families by clicking the GoNoodle heading on the left side. Finally, there's an area that keeps track of your class's progress and what level you're playing. This brings a small gamification element to this tool. This tracker is located at the bottom of the screen.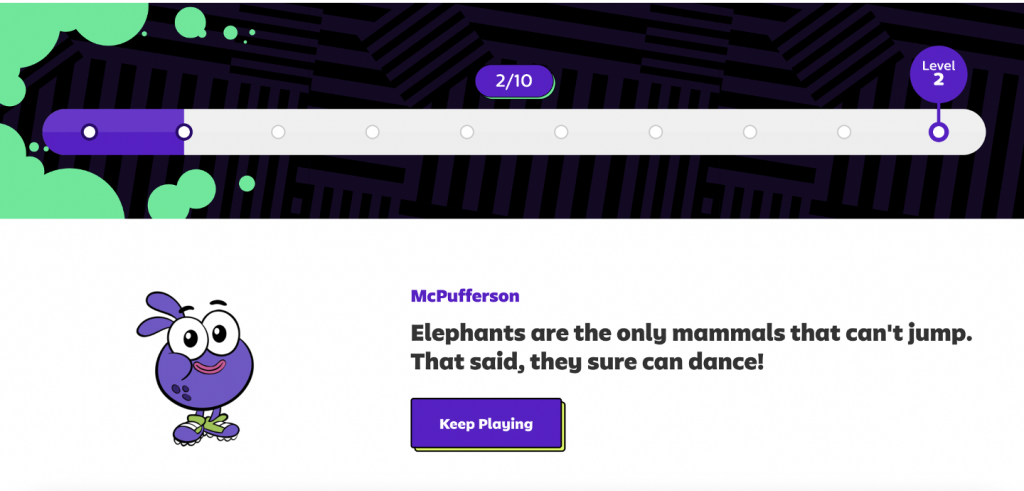 GoNoodle:
GoNoodle is an online resource that offers various interactive classroom "brain break" videos (and more) for educators to use in the K–6 classroom. There are many ways to incorporate GoNoodle activities into your lessons. These activities are ideal for indoor recess, transition times, or even as a morning wake-up exercise. These "get the wiggles out" activities can help your students refocus. There are also many curriculum areas with specific ready-to-go topics. Below, you'll find a small sampling of what is available on the site in a few subject areas. 
Social Studies:
Library of Congress
Voting
Taking a road trip around the USA
Easter Island
Big Ben
United States Capitol Building
Taj Mahal
Gateway Arch
Leaning Tower of Pisa
Eiffel Tower
Science:
Bones of the body
Think like a scientist (observe, hypothesize, experiment, and report)
Inventions and inventors
Astronauts and space
Planets and the sun
Water cycle
Tornados
Anthills and bugs
Heart and other body parts/awareness
Coding and sequencing
Math:
Mean, median, mode, and range
Lines and angles
Rounding
Greater than, less than, equal to
Patterns
Counting to 100
Adding money (pennies, nickels, and dimes)
Telling time
Grade-specific energized math problems
Counting by 2s and 10s
Language Arts:
How to address an envelope
Using commas
Bye, by, and buy
Two, too, and to
Contractions
Alphagroove ("Arch like an A," "Bounce like a B," etc.)
Don't read like a robot
Vocabulary words
Clap it out (learning syllables)
Prefixes and suffixes
Arts, Humanities and more:
Mozart
Handel
How to be a musician (20+ related videos)
Bach
Cooking Matters Kids (several how-to videos)
Saying hello in 15 different languages
50+ videos in Spanish
Fitness
Health tips
Dancing

Additional Video Tutorials and Review:
Have you used GoNoodle in your lessons? Share your favorite activities in the comments below!