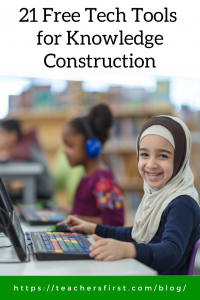 Searching for the definition of knowledge construction leads to several different meanings that all begin with the fundamental premise that knowledge is a generative process. This article provides twelve descriptions of knowledge construction!
As educators, we understand that knowledge construction is crucial to successful learning. Learning about the different methods that students learn allows us to develop and deliver lessons and learning activities that support the construction of knowledge through many different pathways and delivery methods.
This article, 21 Ways to Construct Knowledge, by Karen Cornelius, shares strategies to assist students in processing their learning and checking for understanding. As a technology coach, I am interested in ways to support teachers by using technology as an instructional tool. So let's look at some ideas for each strategy in the article.
Students enjoy using digital tools to create and share information. Consider trying these ideas to increase student engagement, make remote learning more inclusive, engage students in learning, or as an alternative to paper and pencil activities. All of these tools and ideas provide strong support for student knowledge construction.
What ideas do you have for using technology to support knowledge construction? Share your thoughts in the comments below!