The best way to find yourself is to lose yourself in the service of others.

Mahatma Gandhi
Each year, the United Nations designates June 23 as Public Service Day. This event began with the UN's resolution of 2013 recognizing and celebrating public service's value to the community. There are many benefits to performing community and public service starting at a young age, including providing a sense of purpose, developing confidence, and learning valuable lifelong skills.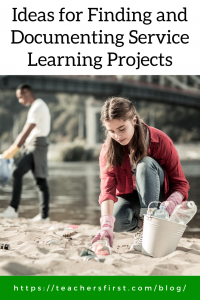 Many schools require public service hours as a graduation requirement. In addition, some states offer their students credits for community service activities, as you can see from this 50-State Comparison. Also, completion and reflection on community service activities are essential components of many college applications.
There are several ways to help students perform public service voluntarily or fulfill requirements. The first step is to help students find activities that meet their interests—ensuring that they find activities they enjoy is crucial to understanding the importance of public service.
Charity Navigator (reviewed here) – Although Charity Navigator is a website created as a guide to finding worthwhile charities and ratings for donations, it is a helpful resource for students to use to find ideas for volunteering. Select the Discover link to find Hot Topics such as Black-Founded Nonprofits, Autism Awareness Month, and Environmental Nonprofits. Although this site doesn't provide specific community service opportunities, it does offer many different ideas for students to use as a starting point to discover their interests.
DoSomething.org (reviewed here) – This organization empowers members to go beyond ideas and encourages action through volunteering opportunities and civic campaigns. As students complete activities, they receive volunteer credits and certificates of completion as you or your students explore the hundreds of options; use filters to narrow choices by type of cause, actions required, and amount of time. In addition, some activities offer online options.
Project Ideas for Service-Learning – This article shares many service-learning ideas for students. Share these ideas and add to the list additional opportunities your students suggest.
As mentioned earlier, many high school programs and college admission applications require reflection and documentation of service-learning activities as the next step to completing community service. Although letters or spreadsheets with documented hours are often acceptable, alternative documentation methods offer the opportunity to share experiences more meaningfully.
Tract (reviewed here) – This project-based learning site where high school and college students are the creators. Share Tract with high school students and encourage them to create a learning path that shares information about their chosen project or use a learning path to teach younger students about their interests, such as recycling, human rights, or environmental issues. For example, if students enjoy working with your local Chamber of Commerce, share this Tract about South American foods as an example of a learning path to create about your town or community. Student-created tracts include activities that users complete within each project. Students document creating a learning path and obtain documentation showing that others learn from their efforts. For example, add a Tract to a college admission application as an impressive alternative to a letter or spreadsheet!
Webnode (reviewed here) – This application is one of many free options for website creators. It includes several templates for portfolios. Encourage students to build a website to create a portfolio that shares their service-learning activities by adding videos, images, certificates, and additional project documentation.
Finding service-learning projects that meet student interests benefits both the student and community in the short-term and long-term. Although service requirements are tied to many graduation requirements, sharing ideas and opportunities that meet various needs is in the best interest of students of all ages with and without conditions.
How do you encourage students to participate in service-learning activities? Do you have an engaging way for them to share their reflections and learned experiences? We enjoy hearing from our readers and learning together by sharing ideas in the comments below.