Educators don't just instruct on curriculum – they are extremely invested and intertwined with their students' lives and well-being. If an educator isn't prioritizing self-care and social wellness, they can experience burnout for themselves, their students, or both.

~Heather Ngoma
July is Social Wellness Month. The concept of incorporating self-care and social wellness practices into a classroom isn't novel. However, these past two years have shown just how vital these practices are and the impact they can have on both teachers' and students' well-being. Not only can they help your students better navigate relationships, they can also boost your social wellness skills because you get to participate in them alongside your students. 
Here are some examples of how you can include social wellness in your classroom: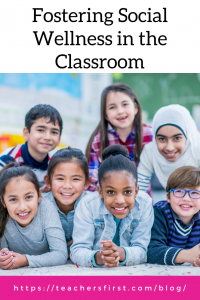 Check-In Reflection – Create an opportunity for students to reflect on what they are bringing to class that day. Discuss with students how their state of mind can impact their ability to respond to challenges and affect their learning effectively. One way to integrate a check-in is by using a word cloud platform such as ABCya Word Clouds (reviewed here). Students respond to a prompt like a two word check-in that describes how they are feeling. The word cloud can create a sense of belonging and connection as students learn how their classmates feel and find that some have similar feelings. For emerging readers and writers, you could create a digital bulletin board using Google Jamboard (reviewed here), allowing them to draw how they're feeling.

Creating a Positive Counter-Narrative – Educator and author Zaretta Hammond encourages educators to support students in shifting their internal dialogue by creating a counter-narrative. She states, "When students accept this negative view of themselves, they are creating an internalized "story" to explain to themselves why they struggle. As a result, they develop a fixed mindset." Giving students the space and tools to create a new self-narrative can increase their capacity for learning. You can give them a chance to practice their counter-narrative by adding opportunities for reflection at the end of a lesson or the day. For example, they can share something they were proud of as a learner or their successes for that day. These can be done as digital reflection portfolios in Seesaw (reviewed here) or using a Google Doc digital template.

Do Nothing – Sue Smalley, Ph.D., says, "Science is starting to show the value of spending time in silence, in nature, and in not engaging in constant external stimulation. We need time doing 'nothing' to be our best selves: well-rounded and creative human beings. The 'doing' side of our nature needs a 'being' side to be in balance." You may be saying to yourself, "Yeah, right, I don't have time to do nothing." Well, I certainly don't mean hours of doing nothing but consider taking a couple of minutes for you and your students to reset by just tuning in with yourselves. This can be done daily or weekly, whatever works for your classroom structure. You can use a web-based platform like Calm's Do Nothing for Two Minutes (reviewed here) instead of a standard timer. 
Acknowledging and focusing on your own and your students' emotional needs in your classroom can strengthen social wellness and help build meaningful relationships. What are ways that you foster social wellness in your classroom? We welcome you to share your ideas and stories in the comments below!