August 14th was National Navajo Code Talkers day! Celebrate the Navajo Code Talkers in your classroom this month or prepare lessons ahead of Native American Heritage Month in November. The Navajo Code Talkers are an interesting and engaging topic for students of all ages.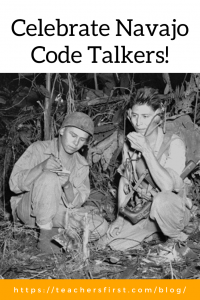 Books and primary sources are a great way to hook students into the world of the Navajo Code Talkers. There are a wide variety of books available for all ages on the subject. Code Talker: A Novel About the Navajo Marines of World War Two by Joseph Bruchac is one of the most well-known and makes a great novel study for students in grades 7-9. Younger students will be drawn in by a nonfiction read aloud of Navajo Code Talkers by Andrew Santella. Primary sources are always a big attraction for students. Many different kinds of primary sources about Navajo Code Talkers exist, including document-based primary sources like the "Memorandum Regarding the Enlistment of Navajo Indians," the Navajo Code Talkers' Dictionary, written first-person narratives from the Library of Congress, and a wide variety of documents and images from Northern Arizona University.
There are many lesson plans, activities, and resources about the Navajo Code Talkers that you can use in your classes. The National Museum of the American Indian has curated a wide variety of resources for teachers and students. Many general lesson plans are available for elementary, middle, and high school. There are even specialized lessons available for subject areas like art and computer science. You can also use other available materials like coloring sheets, crossword puzzles, articles, media investigations, decoding activities with a Navajo code alphabet, in-class games, and even jeopardy-type digital games to create your own lesson plans. These resources will make it easy to introduce your students to the Navajo Code Talkers!
Celebrate the Navajo Code Talkers in your classroom for a fun and engaging class experience! Check out TeachersFirst resources and blog posts for more classroom materials related to Native American history and culture.