In Part 1 of this blog, we introduced you to Canva's Comic Strip Templates and discussed applying the SAMR Model and the Triple E Framework using Canva Comic Strip Templates in your instruction. Canva offers a free Educator Account that includes the Pro features and allows students younger than 13 access to the tool using the classroom section, with no student email necessary. Today's post offers detailed instructions for using this tool and shares classroom ideas. The instructions assume you have not yet upgraded your account to the educator's version and are using a free account.
Canva Comic Strip Templates:
When you first arrive at the site, click to Log in or Sign up (if you don't already have a free Canva account).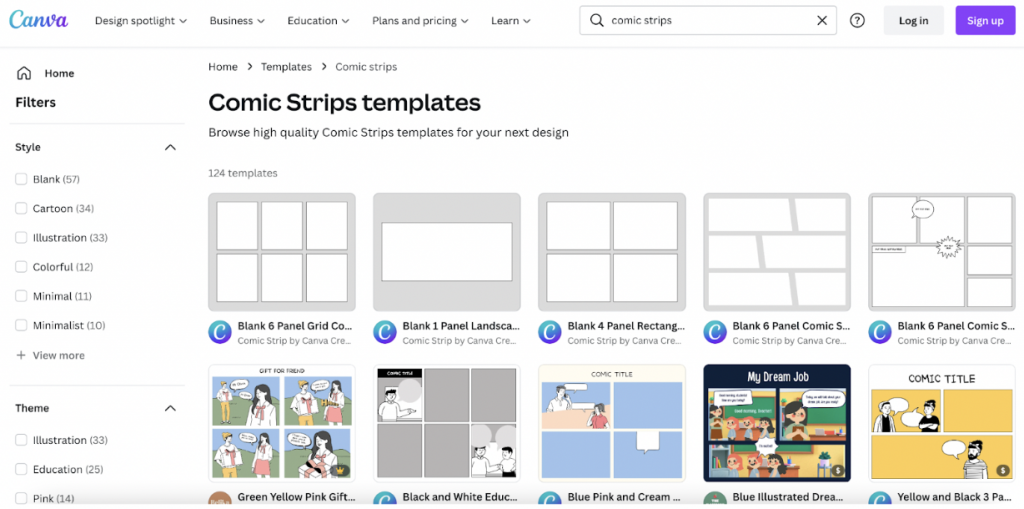 You can sign-up using your email, Google, or Facebook.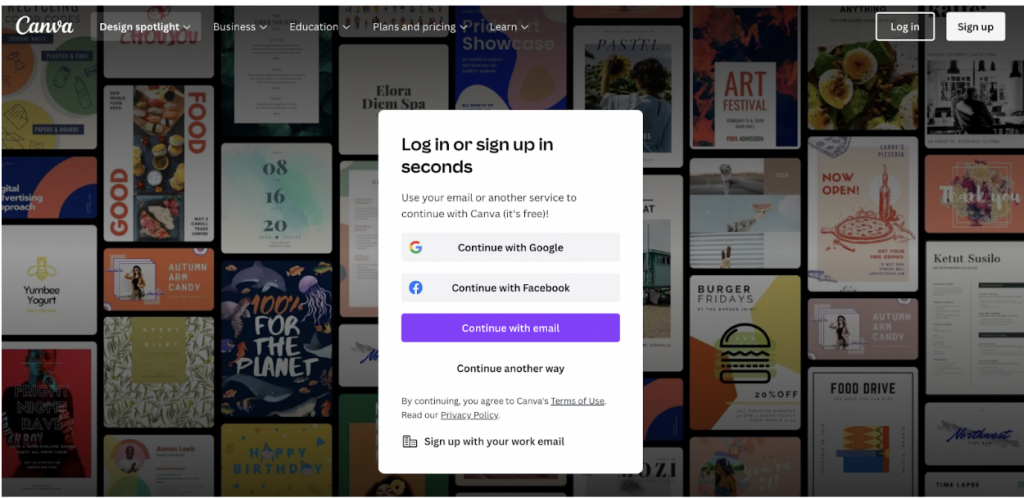 Once logged in, this is what your screen will look like.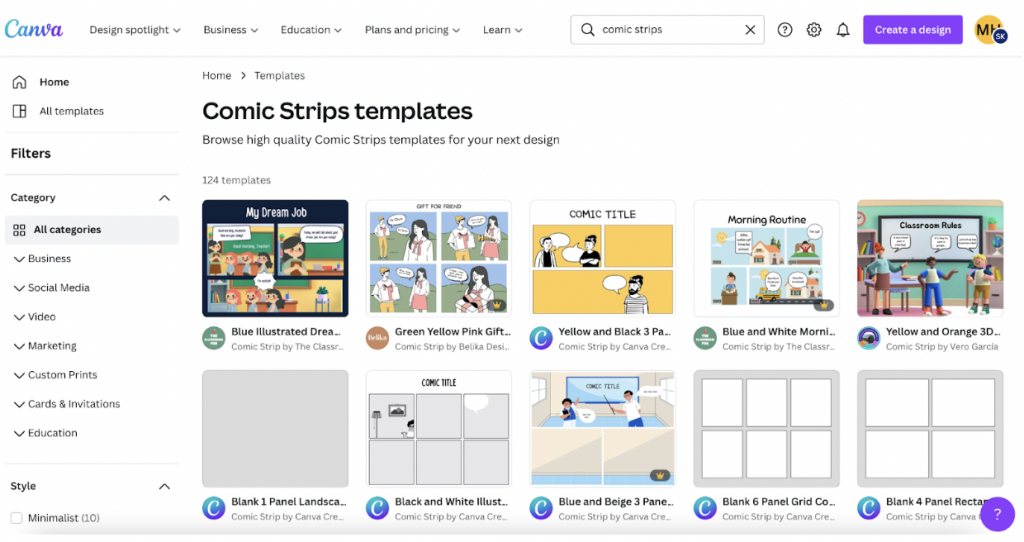 Take notice of the templates; the premium (fee – $) options have the gold crown on the bottom right. This is a small percentage of the total amount of templates available. For example, this selection of 15 templates includes three that are premium only.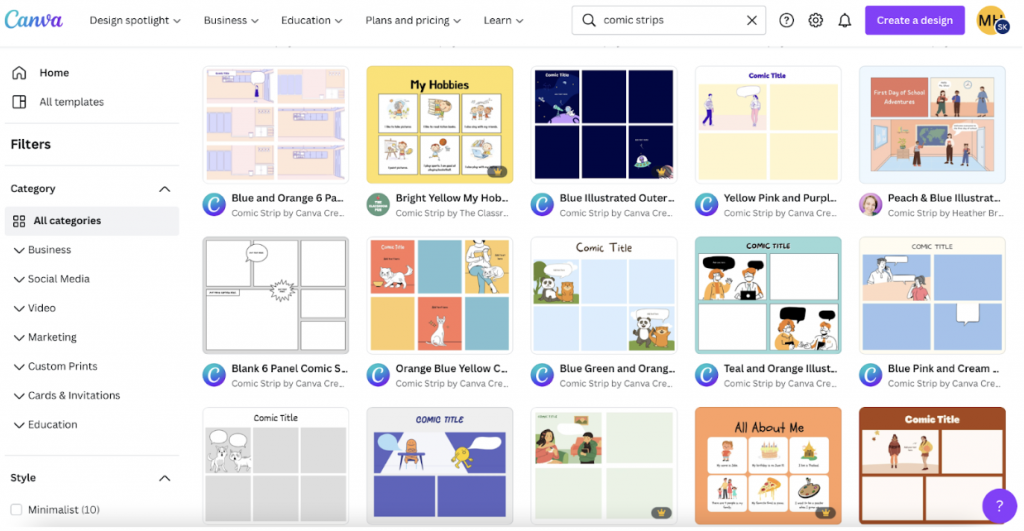 Once you have chosen your template, click on the image. Take a sneak peek and then click to Customize This Template.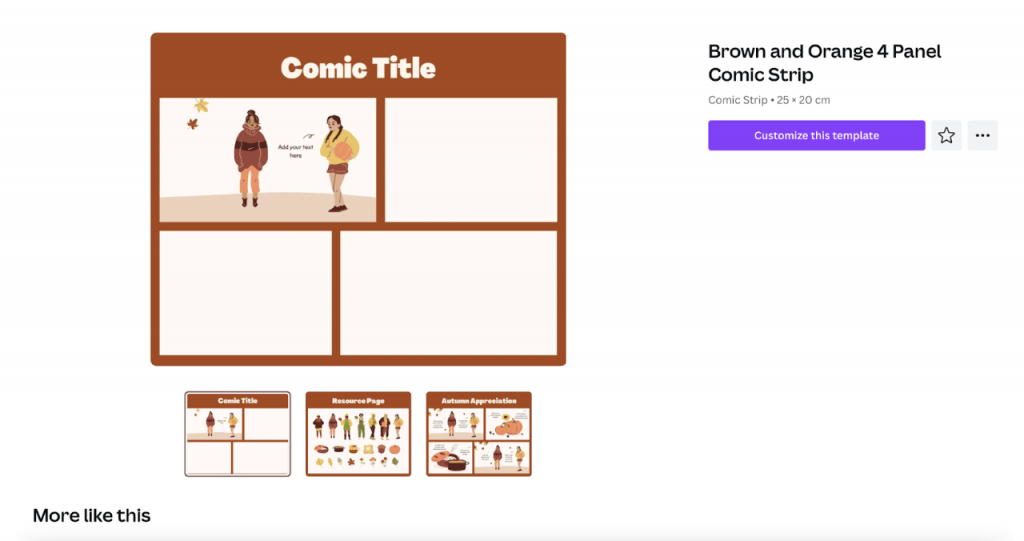 Once you are on the main page, you can click to change the images, add text, change background colors, and more. Making the changes is as simple as clicking what you want to delete. Then, you can copy/paste what to add back instead! Canva has even included a few pages with images that match the color schedule and theme of the templates. Also, take notice of the + option under your image/template. It allows you to add more pages as you would like.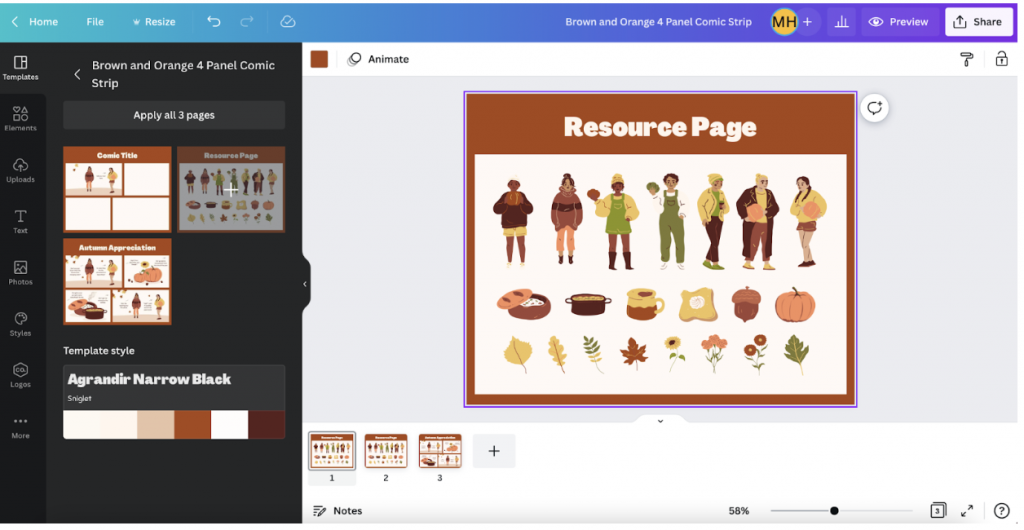 Here are some other features that you don't want to miss. If you click on the text, a top toolbar will appear; this allows you to change the text type, size, color, center your text, make the text bold, and more.
There are many additional options, should you need them. For example, if you want to find other images or upload your own, go to the sidebar, and you can search for images, upload files, record yourself, and more. Canva does a great job of guiding you through this step-by-step, making this program very user-friendly.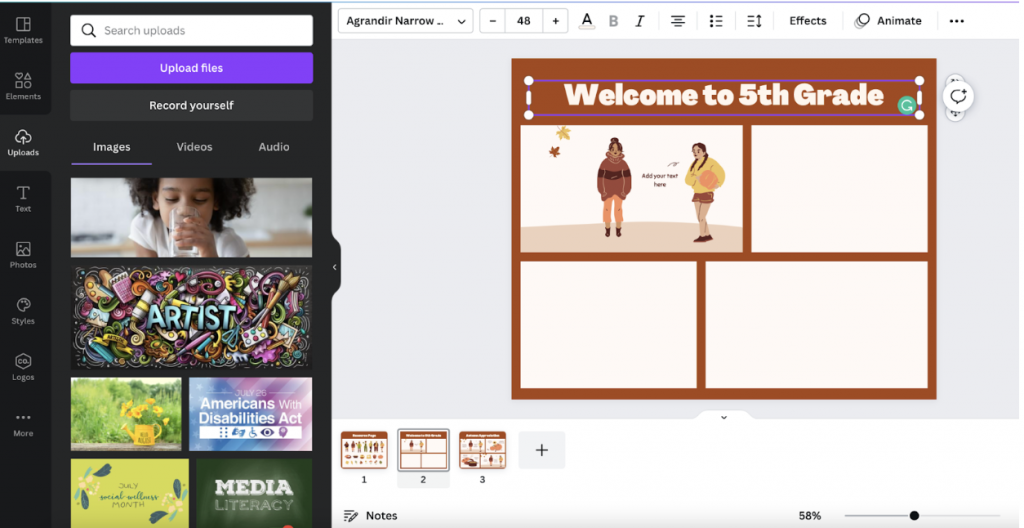 Once you finish your comic, you have the option to share or download it. You can also add collaborators. Click the button to SHARE. From here, you can share the link for others to collaborate and copy the link to share the finished product. Be mindful of how you allow the link-sharing option. If you share the comic, you will want to ensure that it is marked that people "Can Access." If you wish to collaborate, you can click so viewers "Can Edit." There is also an option for the viewer to comment strictly. This option will be ideal if students share the comics with their teachers. And finally, students can click to Download should they want to save the cartoon to their device.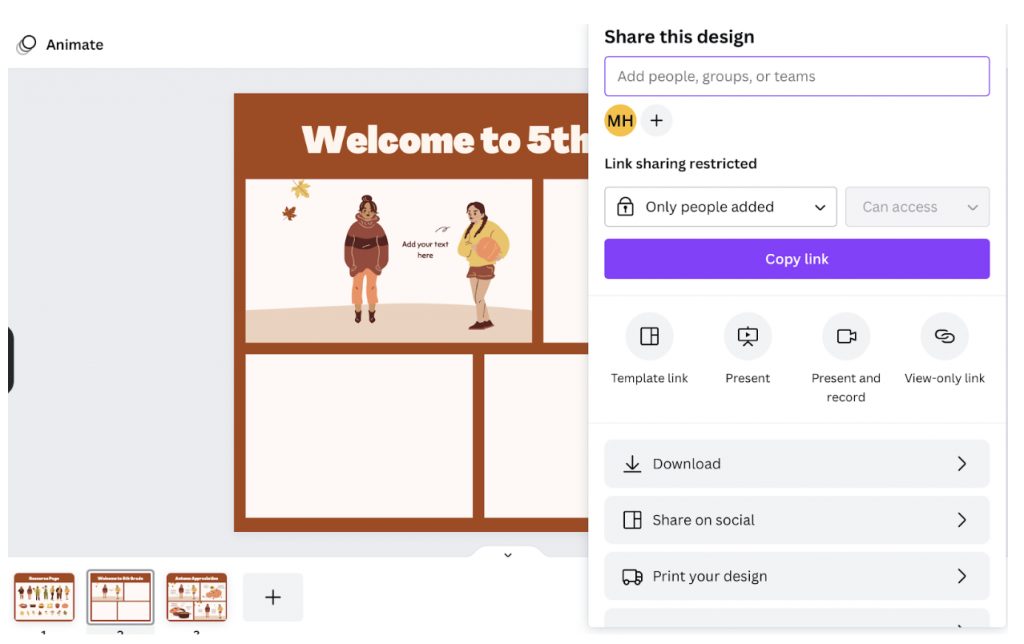 Please note that with Canva, you can come back and complete the comic at a later time. It saves within your account. This is an excellent option if teachers provide comments and students want to go back and update their comics. 
Canva Comic Strip Templates:
This engaging tool from Canva allows students (and adults) to design, share, and download high-quality comic strips. Choose from the various colorful design options and formats (such as single strips or multiple frames). After you select your template, choose the link to Customize This Template. Each template includes several pages, and additional pages can easily be added by clicking the + sign for a blank page or right-clicking to duplicate the page. When you finish your comic strip, you can download your finished cartoon to your device as a PDF, JPG, or GIF. You can also share the cartoon strip on social media or click to share the URL. This site would be ideal for the BYOD or 1-1 classroom. The activities are also suitable for blended and distance learning, as the comics are easily shared. Below, we share several suggestions for using Canva Comic Strip Templates in several subject areas.
Create a comic strip about: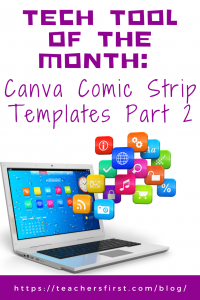 Social Studies:
George Bush (or any past or current president).
People in your community.
Famous rivers around the world.
The state capitals.
Landmarks in Europe.
Recent events from around the world.
Causes of World War I.
Patriots' Day.
The judicial branch of the US government.
The governor of your state.
Science:
Parts of a plant cell.
Physics of baseball.
The results of a science lab.
Famous inventions or inventors of the 20th Century.
Causes and effects of tornadoes.
Biomes of the world.
The food chain.
Why objects sink or float.
Steps of the Scientific Method.
Genetics.
Math:
Vocabulary words in algebra or geometry.
The order of operations (PEMDAS).
The difference between median, mean, and mode.
Explaining the steps in a word problem.
The stock market.
The differences between a line and a line segment.
How to find area and perimeter.
The Pythagorean Theorem
Budgeting and personal finance.
How to multiply and divide fractions.
Language Arts:
The difference between to, two, and too.
Demonstrating the understanding of different types of figurative language.
The setting of a story.
Vocabulary words.
Explaining the themes of short stories.
Comparing an analogy, metaphor, and simile.
A famous author.
Forms of poetry.
A summary of a chapter of a story.
Personal pronouns.
Arts & Humanities:
Famous places to visit in Germany (in German class).
Instruments from the jazz band.
Music from the Caribbean islands.
Any famous musician or artist.
Art or music from various time periods in history.
Sharing vocabulary words in the language from world language class.
How to conjugate verbs in world language class.
Multiple techniques in art.
Music in the language from world language class.
A famous artist from the 19th Century.

Additional Video Tutorials and Review:
Have you used Canva Comic Strip Templates? Then, share your activities in the comments below!