"We are social beings, and we need each other to thrive. A strong, healthy community can bolster us through challenging moments and bring joy to our lives. When we build community, we can build our empathy for each other; and building empathy for each other helps us build community."

– Elena Aguilar Onward: Cultivating Emotional Resilience in Educators
I remember leading up to the start of my teaching career, being forewarned by many different people about the inevitable discouragement I'd feel after my first year of teaching. I was told that your first year of teaching is the hardest and most challenging, and each day presents new obstacles to overcome. They were right, it was challenging, but it certainly wasn't the hardest.
My hardest year of teaching didn't come until 11 years later. So what made a seasoned teacher suddenly have her hardest year? That year was the first time in my teaching career I didn't have a strong school community to support me. My one teammate was unwilling to collaborate, and the campus as a whole struggled to connect. What gave me solace was the community I built within my classroom. I will always feel proud of the space that was collectively created within my classroom walls. Yet, I also think about what opportunities were lost because of the fractures in our campus community.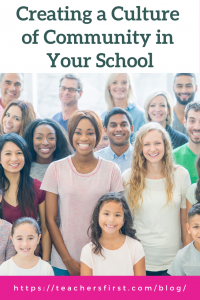 In this blog post, I'm offering some ideas on building community in your school that should translate into your classrooms. I believe that when we take more opportunities to validate and celebrate educators, they are more capable of offering the same to their students.
Greetings and Check-Ins
We've most likely all heard about how the simple strategy of greeting students at the beginning of the day can positively impact students' learning and behavior. Some studies show increased academic achievement in classrooms where the teacher personally greets their students at the door. So, why wouldn't we want the same for teachers when they take on a heavy cognitive load for the day, such as during professional development or staff meeting?
Starting a professional development (PD) day or staff meeting with a greeting can help build new connections amongst the staff and strengthen relationships. It's also an opportunity to model SEL practices that can be taken back into their classrooms. Here are three greetings to try:
Rose, Bud, Thorn: folks are asked to share a "rose" (something positive in their lives), a "bud" (something they are looking forward to in the near future), and a "thorn" (something that's challenging or need support with). This activity gives them space to celebrate the aspects of their life that are going well and the opportunity to ask for support in areas they may be struggling with. Do this activity in small groups if time permits or as a whole group using a digital bulletin board like Padlet (reviewed here).

Mood Meter: Created by ​​Marc Brackett, Ph.D. and Robin Stern, Ph.D. from the Yale Center for Emotional Intelligence. It's a tool that helps us identify our emotions by evaluating a specific moment's pleasantness and energy levels.

The x-axis is the emotion's pleasantness, and the y-axis is the energy level, creating four quadrants. This tool is great for better understanding staff's emotional needs in real-time. This Mood Meter Google Sheet template created by Austin ISD Social Emotional Learning Specialist Jack McGavick can be used before any meeting or training. Staff can write their initials in the box that resonates with them giving everyone a good idea of everyone's mindset. This can help everyone get what they need to stay productive throughout the meeting.
Source: cea.org
Check-In Questions: Sometimes, the simplest check-in is the most impactful. Daresay digital agency created this handy web-based check-in generator that provides interesting prompts for adults to reflect and respond to. You can also ask staff to submit their own check-in questions that they'd like to know about each other using a Google Form (reviewed here)
Celebrating Each Other
If teachers are expected to sustain a positive perspective throughout the school year, it is necessary to weave authentic celebration into the school culture. Providing activities or exercises for teachers to honor each other's brilliance can help build trust and create a higher willingness to open their doors to the campus community.
Shout Out Board: Create a simple digital bulletin for staff shout-outs on applications like Jamboard (reviewed here) or Mural (reviewed here).

Peer Observation: Consider how your campus can organize opportunities for staff to observe and learn from each other. Opportunities I've gotten to observe my colleagues teach added to my teacher toolbox and helped me feel more connected to them. 
These suggestions are just a snippet of what can be done to strengthen your school community and build teachers' emotional resilience. Check out TeachersFirst's collection of resources for Social and Emotional Learning that can give you even more ideas on how to build community at your campus.
If you want to grow your practice of fostering a sense of belonging in your classroom, we have an upcoming session just for you. On October 25th, we'll be hosting an OK2Ask workshop on Build Community in Your Classroom with Tech Tools. Registration is now open so save your spot now! If you miss it, feel free to check out the on-demand version.
If you have had success building your school community in your area, we'd love to hear your ideas in the comments below!