Archaeology holds all the keys to understanding who we are and where we come from.

Sarah Parcak
In 1914, English archaeologist Howard Carter began his search for King Tutankhamun's tomb in the Valley of the Kings. Late in 1922, with time running out on his funding, he uncovered a series of steps leading to a sealed door. Over several months, Carter and his assistants entered the chamber using slow and methodical processes and found several rooms full of treasures. The final sealed door led to his discovery of the burial chamber of King Tut on February 16, 1923.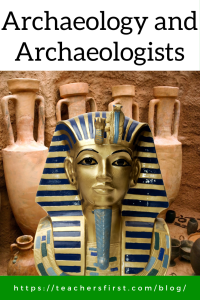 The contents and discovery of the tomb remain a fascinating topic worldwide. Visitors rush to buy tickets to view exhibits like National Geographic's Beyond King Tut: The Immersive Experience, which offers opportunities to learn about King Tut and this archaeological discovery through multimedia presentations.
Almost every student has heard of King Tut through books or movies. This background knowledge provides an excellent way to introduce the field of archaeology. If a visit to the immersive experience isn't an option, share this "King Tut: Treasures of the Tomb" video tour with students instead. "Questioning King Tut: Thinking Like an Archaeologist" is a good option for younger students.
For a more in-depth experience, consider sharing Archaeology  (reviewed here), a resource from the American Museum of Natural History, as part of a computer center or as a flipped or blended learning activity. Archaeology offers a variety of learning experiences to help students learn about the role of archaeologists and the field of archaeology. Here are some highlights:
What is Archaeology? – Visit this section to learn about the big ideas of archaeology through a seven-step process. 
Games:

Tools of the Trade – What tools do archaeologists use? Follow the clues in each comic strip and drag the correct tool that scientists used to find a lost Spanish mission.
What Do You Know About Archaeology? – Test your knowledge of archaeology by answering ten questions. After each correct response, read a summary that includes additional information.

Stories – Choose from several stories covering topics like career information, the ruins of Petra, and discussions about artifacts.
Hands-on – This section shares several opportunities to think about and research information like an archaeologist. Activities include creating a time capsule, sorting trash to tell your story, drawing a map of your world, and piecing together a broken artifact.
Videos – Watch two videos: an archaeologist answering questions about mummies and an interview with OLogist David Hurst Thomas.
In addition to learning about history, archaeology provides many valuable lessons for students. Because this career field relies heavily on careful exploration and management of artifacts, it teaches both caution and mindful purposefulness. Archaeology also demonstrates the importance of gathering facts to tell a story and makes it possible to reconstruct the past to provide context for the present.
How do you include the study of archaeology in your classroom? Perhaps you have additional resources and lessons to share. We always enjoy hearing from our readers and look forward to reading your comments!