Winter break is coming soon. It is a wonderful time to enjoy the holidays with family, clear the mind, and take stock of the upcoming new year. Most adults appreciate the opportunity to take some time off, but often we hear from our children that they are bored. 
Here are some family-friendly, low-stress suggestions to share with parents as your students head out for that well-deserved winter break. Consider including these ideas on your class website for parents to access anytime.
Elementary Students: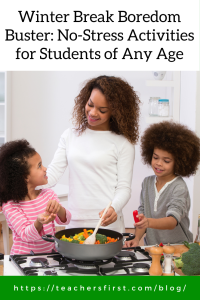 Middle and High School Students:
Winter break should also be a time to relax. Try starting or ending your day with Do Nothing for 2 Minutes (reviewed here) to calm your mind. Can you sit and relax for two minutes?
Build community and stay in touch with families and students over the winter break by creating a topic on Flip (reviewed here) to share their activities. For example, students might share a new recipe found on Foodista or discuss a virtual visit to the elephant sanctuary. 
Winter Break is an excellent time for relaxing and pursuing individual interests without the time restrictions and demands of keeping up with classroom activities. What suggestions do you have for stress-free kid activities? We always enjoy learning from our readers; share your thoughts in the comments below.