Why can you never trust a math teacher holding graph paper? They must be plotting something! What did the triangle say to the circle? "You're pointless." Those math jokes may only make "sum" of your students laugh, but they might capture their attention. You can find 101 Silly Math Jokes and Puns to Make Students Laugh Like Crazy from Prodigy (reviewed here) to use as icebreakers to begin class, help refocus student attention, or to provide a quick break during math class. I apologize for going off on a "tangent" with math jokes that might make your middle school students groan! Let's get back to the focus of this post, which is to share strategies and resources for middle-level middle-school math teachers.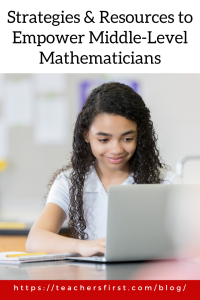 I just wrapped up my twentieth year of teaching middle-level students. Middle school students present a unique challenge as they experience physical and emotional changes. My blog post on celebrating middle-level education month outlines more about middle-level learners. The curriculum presented during middle-level math instruction explores complex concepts that build a foundation for higher-level math. It's critical for middle school math instruction to reinforce, reteach, or enrich students as they bridge the gap between their elementary and high school math experiences. Middle school math canvases a wide range of topics through algebra and geometry. I thought about inserting a geometry joke here, but it was too obtuse. Let's explore strategies and resources to support teachers as they play a vital role in preparing their students to meet middle-level students' unique demands.
Gamification and Game-Based Learning
Math games integrated into the middle-level math classroom foster experiences for engagement, collaboration, and reinforcement of mathematical concepts. I enjoy implementing games and gamification experiences for my students, and I've witnessed the benefits of these experiences. Gameplay positively impacts children's physical, cognitive, and social-emotional development. Dr. Ruth Okoye outlines the difference between gamification and game-based learning in her post What's the Buzz: Gamification or Game-Based Learning? This collection of math games by Crazy Games challenges students to use problem-solving skills. Math Play (reviewed here) and Mr. Nussbaum (reviewed here) offer game collections for middle school students. We Are Teachers also offers a nice collection of online interactive math games for middle school. Games in the math classroom cultivate an engaging and active learning environment.
Math Talks
Conduct regular class discussions where students can share their mathematical thinking, explain their reasoning, and ask questions with math talks or number talks. These discussions promote mathematical discourse, critical thinking, number sense, and the development of mathematical language. Math talks or number talks encourage students to explain their thinking to justify their responses. Math talks foster communication and critical thinking skills while allowing students to learn from each other.
Think, Notice, and Wonder (TNW) is an excellent activity for math talks and a strategy to help students solve problems. Edutopia has a video modeling the experience, and NCTM has an overview and resources for implementing TNW in the classroom. Screencastify (reviewed here) can allow your students to record their thinking and share it with their classmates. Facilitate math talks during class or use Flip (reviewed here) for video discussions between the students. Creating an environment where students feel comfortable sharing, exploring, and building a deeper understanding of math is essential. Math talks encourage your students to share their perspectives and insights on how math impacts their decision-making and problem-solving.
Relevant and Realistic
"Why do we have to learn this?" is a question often heard in middle-level math classes. Relating math concepts to real-life scenarios helps them see how math is relevant to industries students will pursue with their future career interests—incorporating real-world examples accompanied by meaningful hands-on, minds-on activities levels up the engagement for the students. Students often enjoy project-based activities integrating math into real-world contexts, like designing a dream house floor plan and calculating the room area for various flooring options. My PBL Works (reviewed here) has several PBL math activities ready for your next middle-level math lesson.
National Math Trail (reviewed here) is an archived collection of real-life math problems created by students from around the United States related to their communities. Access lessons that bring math to life and provide relevance to your middle-level student through Real World Math (reviewed here). Math at the Core (reviewed here) from PBS Learning Media is another collection of fantastic resources for middle-level math educators.
Another practical way to integrate mathematics into middle-level learners is through finance and money management skills. Incorporate FutureSmart (reviewed here) to allow your students to experience math through making informed financial decisions. Integrate real-world data sets in your math lessons, from sports statistics, current events, and economic trends, to practice graphing, interpreting, and analyzing data. View this OK2Ask webinar archive, Data and Charts, and Graphs, Oh My! Let Google Tools Be Your Guide, to explore and plan for the use of forms to collect data, web resources to access data, spreadsheets to manipulate and graph data, and Google MyMaps to visualize data.
Technology Ingetration
Integrating technology and digital tools provide another level of a relevant and realistic approach to middle-level mathematics. Computational thinking and coding activities involve problem-solving and logical reasoning to allow students to make deeper mathematical connections. Sharon Hall's post, A Guide to Understanding and Implementing Computational Thinking, is an outstanding resource for implementing computational thinking activities with your students. Explore Google CS First (reviewed here) activities to enhance and reinforce math concepts. Challenge your middle-level students to code geometric shapes or write a code to calculate the perimeter of a shape. 
Explore PhET Interactive Simulations (reviewed here) for interactive simulations aligning with your curriculum and instructional goals. Use the simulations as follow-up activities to reinforce, reteach, or enrich mathematical concepts. Mathigon (reviewed here) is a technology option for middle-level math students that offers interactive math textbooks, puzzles, and simulations. Investigate the features and resources Geogebra provides (reviewed here) to engage and support middle-level math students. GeoGebra allows students to create interactive demonstrations to help them visualize mathematical concepts, tools for manipulating expressions and equations, and tools to create graphs.
As a middle-level math teacher, you don't need to carry a ladder to class to help your students reach new heights in their understanding of mathematical concepts. Of course, we had to culminate this post with another cheesy middle-level math joke. A crucial step in a student's educational journey is the development of their mathematical skills and knowledge during their middle-level years. What strategies and resources are you using to engage your middle-level math students? We'd love to hear them in the comments below!