We are all worthy of telling our stories and having them heard. We all need to be seen and honored in the same way that we all need to breathe.

Viola Davis
As educators, we are entrusted with shaping young minds, igniting their curiosity, and nurturing their love for learning. On September 8th, International Literacy Day, we'll have the opportunity to celebrate the transformative power of literacy, champion the cause of education, share our own stories of lifelong learning, and pave the way for a more sustainable and peaceful world. This year's theme, "Promoting Literacy for a World in Transition: Building the Foundation for Sustainable and Peaceful Societies," resonates deeply with our roles as educators and advocates for positive change.
The #ImALifelongLearner Campaign: Sharing Our Literacy Stories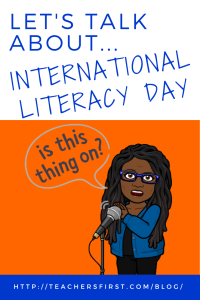 Learning is a lifelong journey, and everyone's journey is different. Imagine a world where every individual can embrace the spirit of lifelong learning. In this world, stories of personal growth through education can inspire others to embark on their journeys of discovery. The #ImALifelongLearner campaign encapsulates this vision, inviting participants to share their unique paths to becoming lifelong learners. Educators have a fantastic opportunity to participate and guide our students in sharing their literacy stories.
Technology offers us innovative ways to amplify our voices and reach a global audience. Here are some tech-integrated ideas to help you and your students create and share your literacy stories:
Another way to participate in the celebration
Use resources such as this topic in Microsoft Flip to educate your students about Sustainable Development Goal 4, which aims to ensure inclusive and equitable quality education for all by 2030. Have students use Big Huge Labs (reviewed here) to make posters, ClipChamp (reviewed here) to make videos, or Pablo (reviewed here) to make social media images in support of the goal. Post them using the hashtag #SDG4. Show your students that their actions can raise awareness about the 774 million youth and adults worldwide who lack basic literacy skills.
Let's all unleash our creativity and voices to share our literacy stories this International Literacy Day. As educators, we can empower generations of passionate, life-long learners through diligence and care.