In Part 1 of this blog, we introduced you to LyricsTraining and discussed applying the SAMR Model and the Triple E Framework using LyricsTraining in your instruction. Learn more about this game-based learning interactive that uses video clips to engage students to practice listening comprehension skills and following context clues. Thirteen languages are offered, including English, Portuguese, French, Italian, German, Dutch, Japanese, Turkish, Polish, Swedish, Finnish, Catalan, and Spanish. In addition, these learning activities are ideal for English language learners of all ages, as the genres include Children's Music. Another neat feature is that teachers can upload videos and create quizzes/games. Today's post offers detailed instructions for using this tool and shares classroom ideas.
LyricsTraining:
When you arrive at LyricsTraining, you may see a screen asking if you want to play on the app (called Lingoclip) or go to the website. Click the button on the top right to gain access directly to LyricsTraining.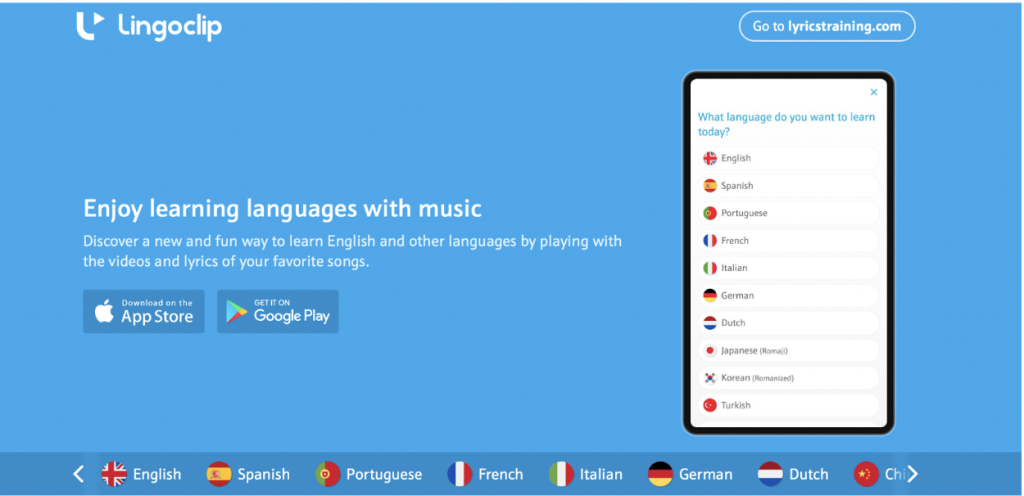 Once you arrive at the web-based game, there are a few options on the top. First, you can pick the Genre or Search for a specific song or topic. You can also choose your language, and on the far right, there is the option to Log In or Sign In,
There are many genres available at LyricsTraining. Some of the songs are not necessarily school-appropriate. Preview the song lyrics before sharing them with your students.
Here is the screen you will view if you Sign Up for an account. You can register using an email address or Facebook account.
Once you choose your genre, find the song/video clip you wish to use.
Next, select a Game Mode. The Beginner level in this example fills in 20 random words out of the 204 (or 10%), and the difficulty level increases from there. At the bottom of the screen, you can find options to add a song to your favorites, print the lyrics (a great way to preview all lyrics quickly!), and make a new exercise. We will show you how to create an exercise later in this tutorial.
The next step will ask you to choose between Write Mode (fill in the blank) or Choice Mode (multiple choice). Pick how you want to play, then click the arrow to start the game.
Now you are ready to start the game. Click play and view your score across the top.
You can see the circle symbol when the video has a missing word. This example shows the multiple choice style game. You can see how many hits you achieved from the target goal (in this case, 20 questions).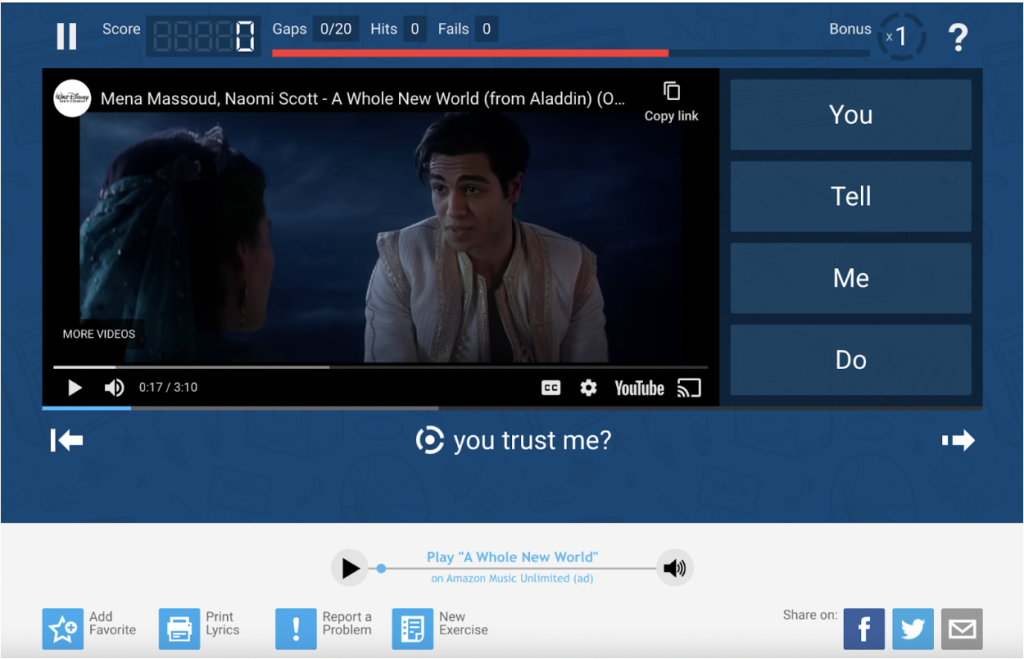 One option that you also have to slow down the video is to click on the small circular dial on the bottom right side of the video. Click on playback speed to slow down for easier listening for students.
Click on the missing words as the song continues. If you have a miss, the game allows you to try again.
When finished, view your final score. Bonus points can be earned by answering the questions before the song is completed (as you can usually see the lyrics before you hear them sung/said).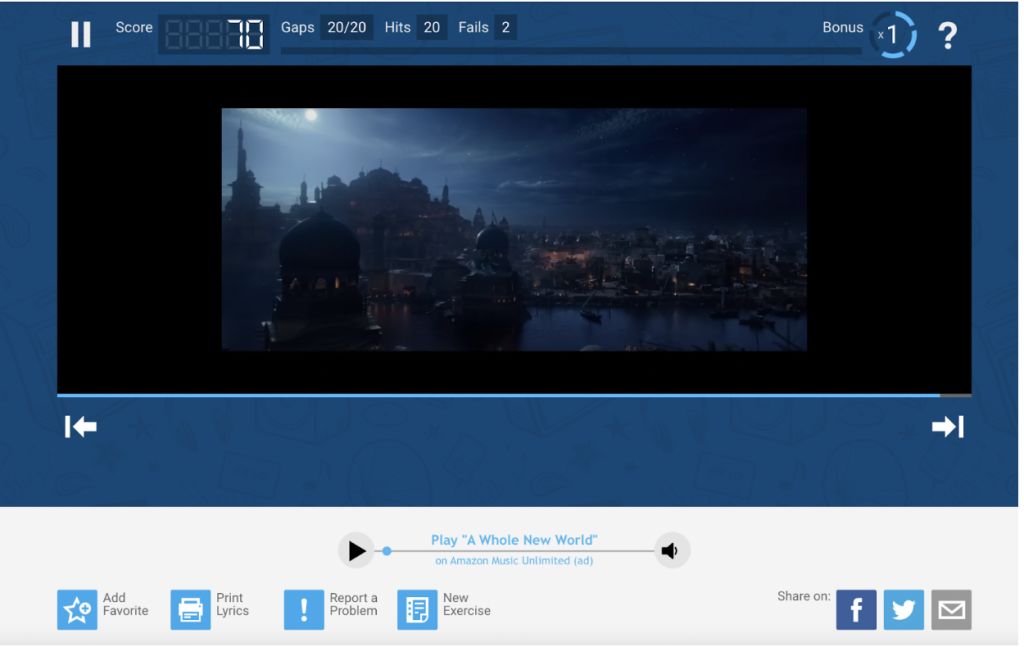 You can Replay the Video or End Game when you have answered all the questions.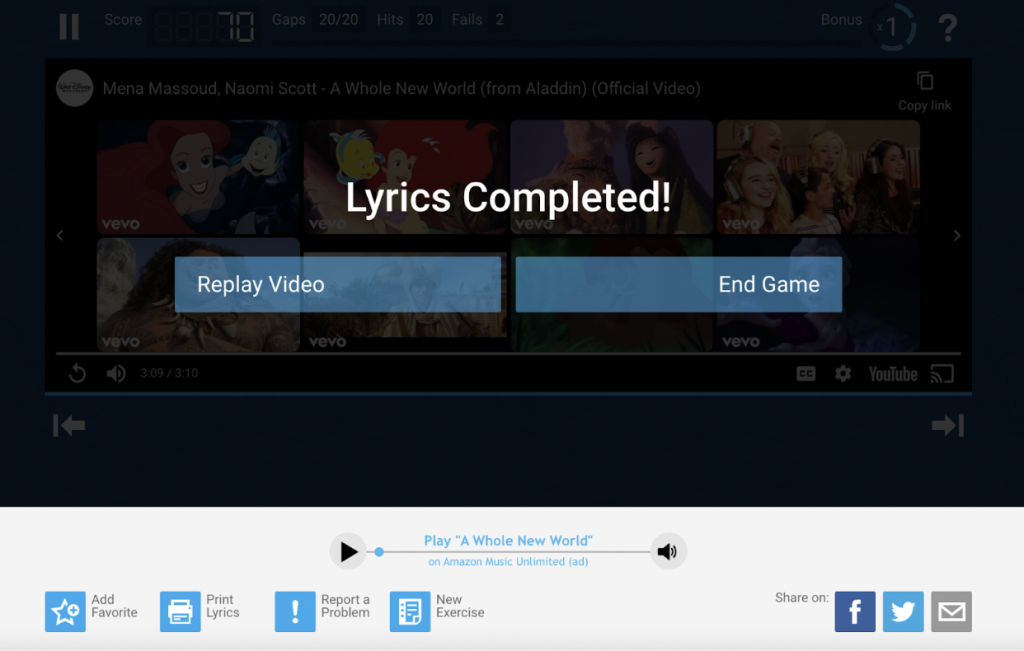 Now let's talk about the options on the top when you are signed in to your account. The first one is My Lyrics. Click on that option to add your own YouTube video clip.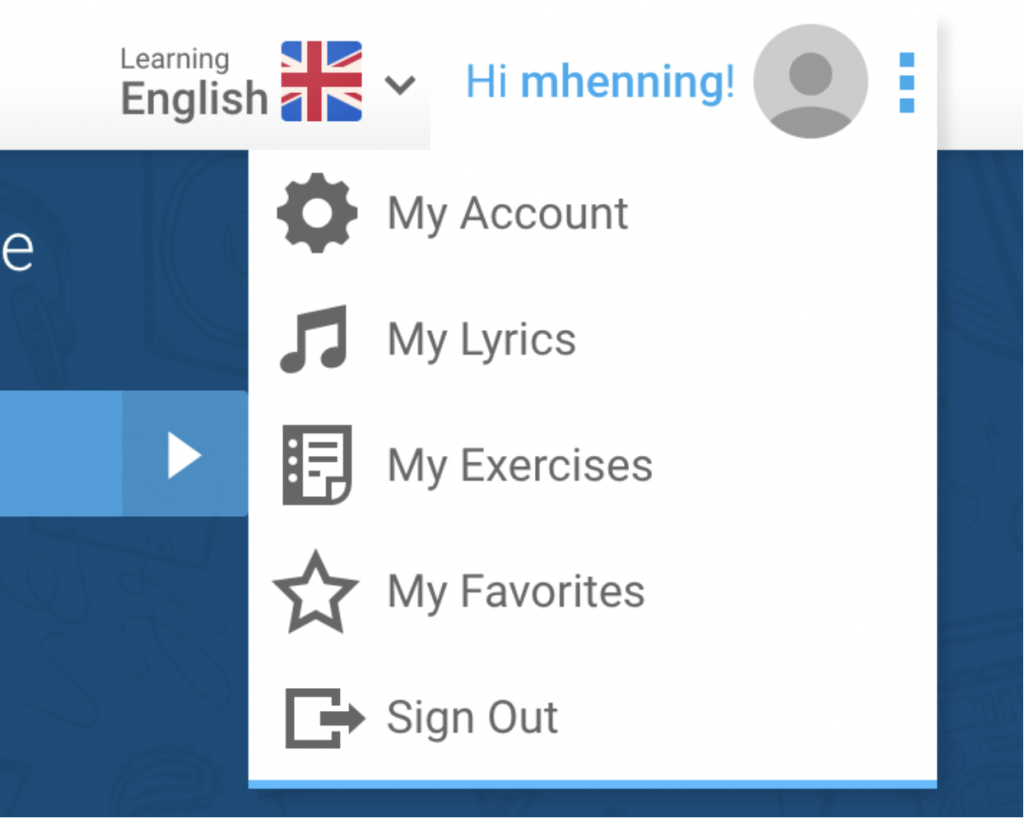 You must first add the link to the YouTube video in the top LyricsEditor box to add your own lyrics. Then, you fill in the information on the right side. When finished, click Save.
The My Exercises option is a place to save videos already on the site or uploaded videos. This section allows you to change the words asked during the game.
Here is an example of how to edit an exercise. You click on the 20 words you want to use as the "removed" question words. When finished, click Save or Preview to try out your exercise.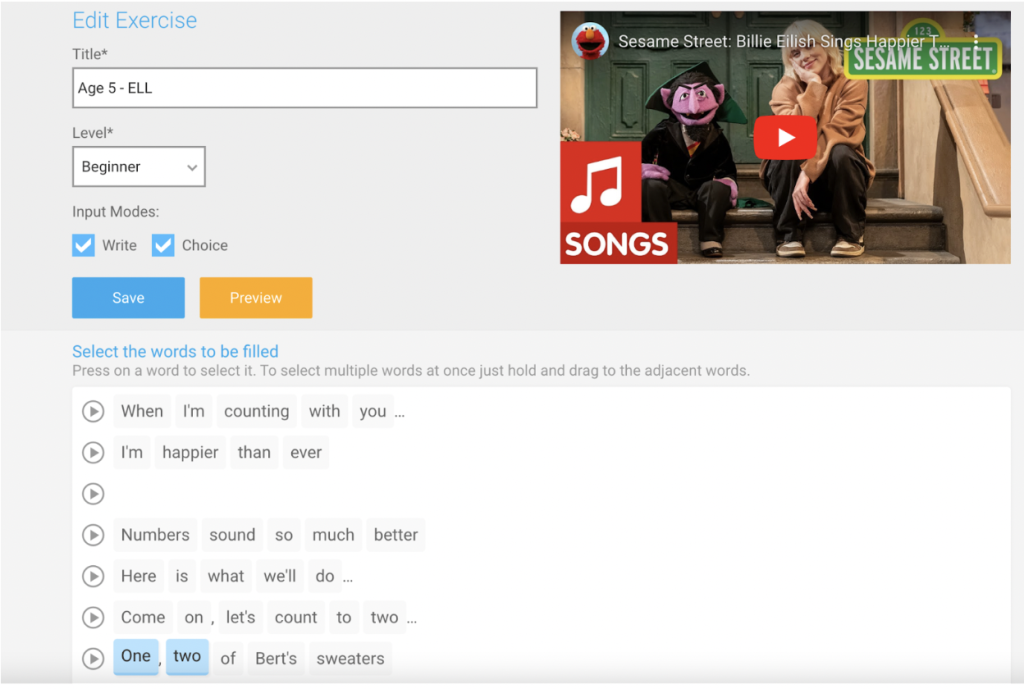 The final section available for logged-in users is My Favorites. This is a place to store all your added videos and others on the site. It provides a quick way to curate your favorites to share with your students.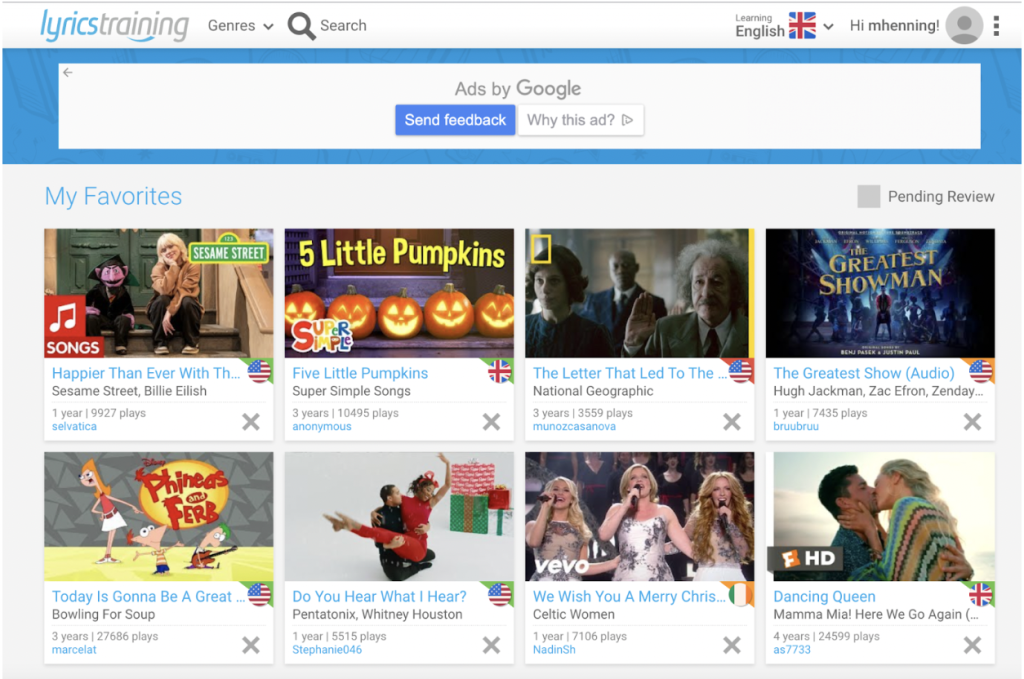 Integration Ideas:
There are many ways to integrate LyricsTraining into your lessons for world language and multilingual learners. Below, we have listed several suggestions for using this engaging resource with your class! Remember to preview the Lyrics to ensure they are appropriate for your grade level.
Share a video/game with all of your students to practice listening comprehension skills as a class or during transition times to get students' attention.
Share this site with students for additional practice in many world language classes. Students can choose their own difficulty levels.
Share this site with your multilingual families to practice English comprehension skills.
Upload your own video related to class content and create your own exercises. You can do this by finding any YouTube video on any subject area. Click to Add Lyrics.
Use the Children's Music genre videos to help young, multilingual students learn the basics of English (such as letters, numbers, and colors).
Assign the activities for homework in a world language class for students to practice during a virtual learning day. Students could take screenshots or photos of their final scores to share with the teacher.
Play a listening comprehension game together in your world language classes.
Assign a listening activity as homework for your multilingual students to use to learn the English language or even about culture, as many videos are education.

Additional Video Tutorials and Review:
Have you used LyricsTraining? Then, share your activities in the comments below!