Observed annually on September 15, National Online Learning Day began in 2016. The event aims to recognize the many opportunities online learning offers for all individuals. Online learning tools provide each individual the opportunity for individual growth, make learning accessible to all students, and facilitate diversity in learning by ensuring that learning tools are available in different modalities.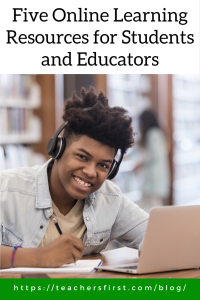 Online learning has many benefits; one of the most significant advantages is the flexibility that online learning provides. Students often participate in learning opportunities as time permits within their schedule. Providing flexibility allows students to feel in control of their education and balance classroom requirements with family and extra-curricular obligations.
Online learning often provides opportunities for personalization of content delivery and materials. This personalization offers increased opportunities to complete the learning activities successfully and enhances the learning experience.
Learning online is available through many different tools and strategies. Many resources provide complete courses, while others offer single lessons. Educators provide online learning opportunities using teaching strategies, including flipped and blended lessons, hyperdocs, and choice boards.
Try these Online Learning Resources:
Best practices must always be considered when sharing online learning opportunities with students. Consider how to manage students' learning, ways to promote positive student interactions, and provide clear communication of the process and learning objectives.
Here are some additional tips to consider as part of online learning activities:
Be clear on expectations for completing lessons, such as due dates and required activities.
Share tips with parents and caregivers on how to encourage students to study in quiet areas, set time aside to complete activities, and encourage taking breaks, etc.
Let students know how to ask for help when needed.
If necessary, provide tutorials for students (and caregivers) for use with online resources.
Do you or your students have a favorite online learning resource? Let us know your ideas for making the most of online learning opportunities in the comments.