In Part 1 of this blog, we introduced you to Fakebook. We discussed applying the SAMR Model and the Triple E Framework using Fakebook in your instruction. Today's post offers detailed instructions for using this tool and shares classroom ideas.
Fakebook:
When you arrive at Fakebook, there are various options to add information. You can click to add a name, add profile information, add posts, add friends, add a wallpaper image, and more. You can click wherever you want to begin.
Once the pop-up instructions are removed, you will notice the site has some advertisements. We suggest you have students close the ads by clicking the X.
Once the ads are hidden, you have a clearer view of the page. From here, start by adding the name, profile photo, and whatever other information you want to include.
For this example, a Fakebook page about Ruby Bridges is being created. As students are researching famous individuals from the past (or present) or sharing details of a beloved character from a story, be sure they are researching information that can be included on this page – who would be friends with Ruby Bridges, did she have siblings, what kind of things would she post and from what time period? Please note in the example below, the name Ruby Bridges was entered, and the profile image automatically appeared. Next, you can click to add a cover photo (as this example shows a more recent picture of Ruby Bridges).
Students can add as much to the Intro as they wish. Each sentence begins with a new bullet point.
Now, let's add a post. This is an excellent opportunity for students to show what they know about the person they are writing about. Notice how you can post the date you want displayed on the post and the author. You can also add images or web links. You can create comments on your post from others, like it, edit it, or delete it.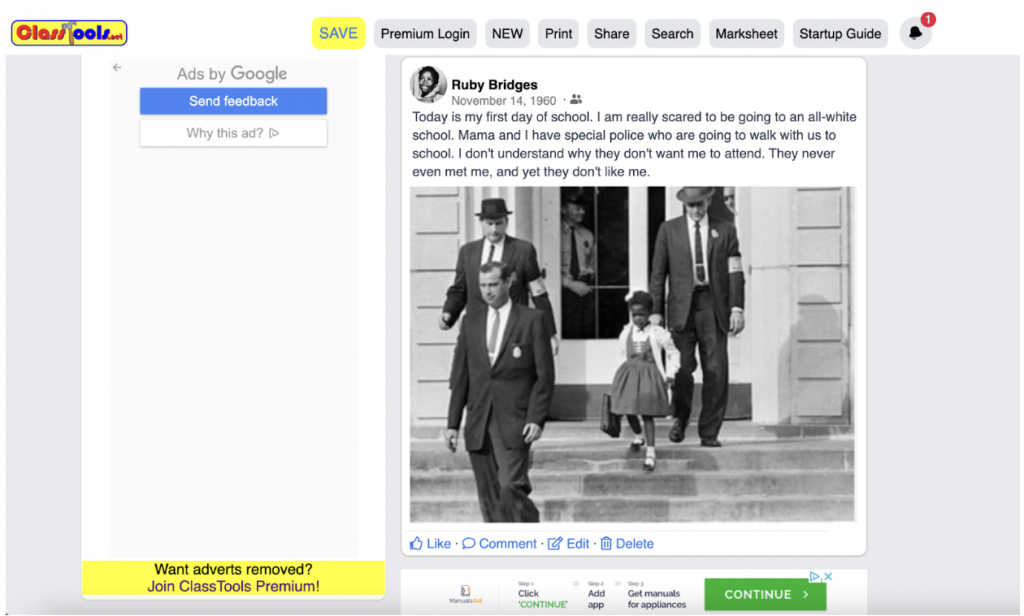 Take note of the top toolbar. This is where you can go to save your Fakebook page, create a new Fakebook page, Share your page, and many other options. When you are finished, click to SAVE your Fakebook profile page. Facebook requires at least three posts on the profile page before you can save.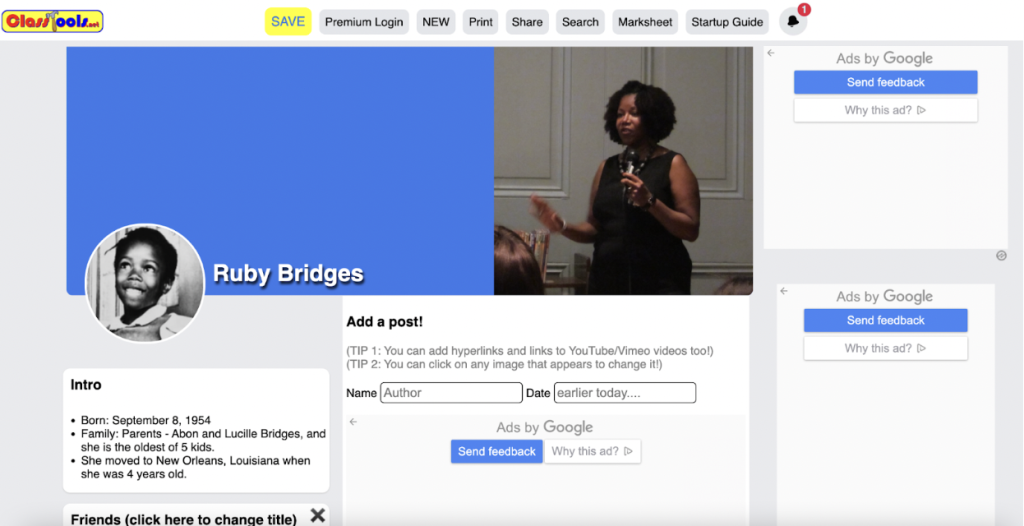 When you click save, you will be asked to provide a password. This allows you to edit your work. Once you enter your password, a URL to your page is provided. This URL can be shared with others, as no one can edit your page without your password. We highly suggest educators collect the passwords from their students in case they forget them.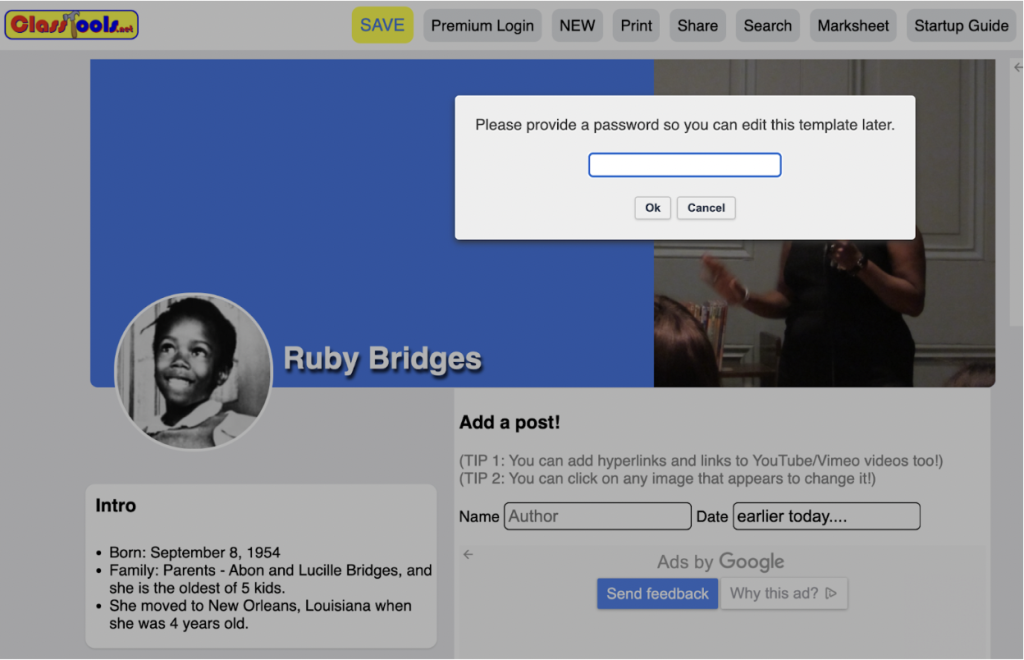 This is what people viewing the URL will see. There is no option to edit or comment. So, there is no concern for students editing another student's work.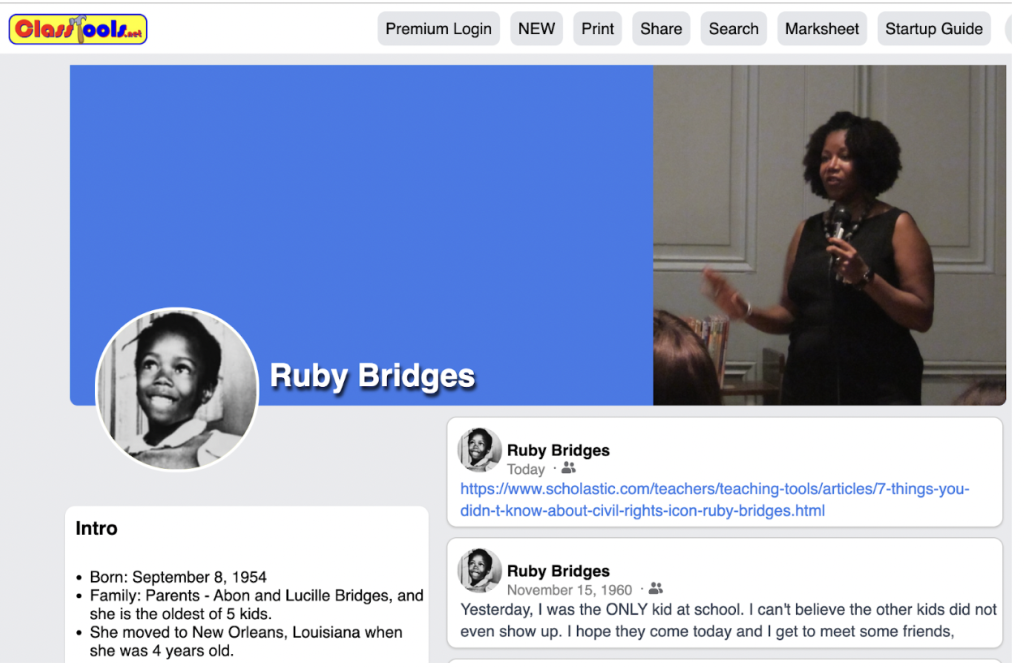 Classroom Implementation Ideas:
Fakebook allows students and teachers to create profile pages (similar in design to Facebook). Profiles can be made about real or fictional people. You can include images, profile photos, friends, posts (that can be dated), and additional information. This site would be ideal for the BYOD or 1-1 classroom. This website is suitable for remote and distance learning. Below, we share several suggestions for using Fakebook in several subject areas. Create profile pages about people, places, or events.
Create a Fakebook profile page about…
Social Studies:
A historic symbol or landmark (such as The Statue of Liberty).
The U.S. Flag.
Rosa Parks or another civil rights leader.
Any historical figure or president.
A famous building in Washington, D.C., such as the Pentagon.
A renowned city from anywhere in the world.
A time period such as the Great Depression or the Roaring 20s.
The Supreme Court judges.
Civil War soldiers (a day in the life).
A timeline of a historic event, such as the Gettysburg Battle.
Science:
An active volcano.
A recent science experience.
Coral reefs.
Famous inventions or inventors.
The events and people involved in the Challenger explosion.
First people to land on the moon.
An animal from the rainforest.
The animals of Africa.
A timeline of a major weather system (such as a hurricane or tornado.)
Math:
A famous mathematician.
Buildings around the world that have unusual shapes.
Greater than and less than (use images and words to describe).
Vocabulary words in algebra.
How to find area and perimeter.
Examples of a line and a line segment.
Language Arts:
Characters from a book (they can comment back and forth).
A famous poet
Location and town from a book the class is reading.
Beloved authors – such as Christopher Paul Curtis.
A scene from the story.
Current event stories for nonfiction.
A timeline of events from a story.
Arts & Humanities:
A profile page about themselves in any world language course (in the new language).
A timeline of events in the life of a famous musician.
Music and musicians of the 1950s.
A timeline of the history of Jazz.
A famous artist from modern times.

Additional Video Tutorials and Review:
Have you used Fakebook? Share your activities in the comments below!