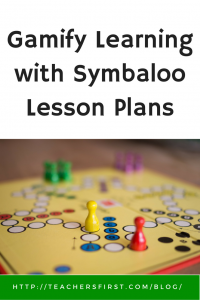 Are you incorporating game-based learning activities into your classroom? Perhaps you are familiar with Symbaloo to use as a bookmarking tool, but did you know that Symbaloo has a new lesson planning site that turns activities into a game-like simulation? You can find the TeachersFirst review of Symbaloo Lesson Plans here, or go directly to the site here.
The Symbaloo Lesson Plan site is based on the familiar Symbaloo tile concept. Each tile in a learning path represents a learning resource or activity such as a video, interactive activity, or quiz. Personalize the look and path of a lesson as you add and connect tiles. Players complete each step along the learning path by following available arrows and moving from tile to tile. Once students enter the learning path, live results provide instant feedback on individual progress, time spent, and scores. Because you choose the activities and learning path, this becomes a perfect tool for gamifying learning in any content area.
Create your own lesson plan or start with a copy of plans available at the Marketplace. Easily differentiate game activities by creating a copy of any lesson plan. Editing options allow you to change material on individual tiles. For example, if the original plan includes a video and a follow-up tile with a quiz, you can leave the video, but change the questions for different ability groups of students. Be sure to create a copy for the different groups, then personalize questions or comments. Or perhaps you want all students to follow a lesson plan about the Constitution, but you want different groups to focus on different individual signers. Create a master lesson plan, then copy and change tiles to include information and focus on each individual.
Gamify learning by taking advantage of features found in Symbaloo Lesson Plan.
Allow students to choose different paths on the game board – one may be a video, the other a game. Both options provide the same content, but through different delivery methods.
Incorporate a point system for completing activities. Include the point system as one of your first tiles in the lesson plan. Add it directly into the tile, or upload a document with all scoring information. For example, ask students to complete activities totaling 100 points. Award 5 points for games, 10 points for entries on a community bulletin board such as Padlet, or 15 points for a blog entry using an easy tool such as Throwww.
Use rewards to celebrate student achievements within a game. Offer rewards for completing a game within the specified time period, a percentage of correct answers, or for an outstanding blog or Padlet contribution. Offer rewards in the form of stickers, digital badges through Class Dojo, or raffle tickets for special favors such as sitting at the teacher's desk for the day.
Creating a Symbaloo Lesson Plan requires some forethought. Think about these different factors when adding content:
What gamification features will you include? Online games, rewards, instant feedback, choice of activities are some things to consider including.
What are your learning objectives?
How will you assess learning?
How will you differentiate for student ability, learning styles, or student interests?
How long do you want the learning activity to take?
How long do you want students to be able to access the lesson?
What order do you want activities? If you create a tile then delete it, there is a space where you will have to add something new.
Games are typically enjoyable and motivating for students. How can you make sure this will take place in your game?
You may also want to consider allowing students to create their own Symbaloo Lesson Plan games as an end of unit review activity.  This would make an excellent way to create review materials to access both in school and at home.
The two videos below demonstrate the two different methods for creating with Symbaloo Lesson Plans. Keep in mind, Symbaloo Lesson Plans is a fairly new site and we should expect to find many more additions to the marketplace as users become aware of this product and the different options for using it in your classroom.
Let us know if you are using Symbaloo Lesson Plans and your ideas for using this tool to gamify your classroom. How do you use it to differentiate and motivate students? Do you have tips for creating Symbaloo Lesson Plans? Add your thoughts to the comments below.