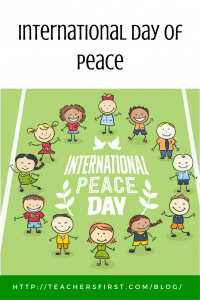 September 21 marks the 36th celebration of The International Day of Peace. Established in 1981 by the United Nations, this annual event intends to provide "a globally shared date for all humanity to commit to Peace above all differences and to contribute to building a Culture of Peace." This year's theme is Together for Peace: Respect, Safety, and Dignity for All.
Like adults, students understand best when given an opportunity to compare and contrast their life with those of others around the world. Building awareness of cultural differences helps students develop empathy through an understanding of the world around them.
Last fall I was fortunate enough to travel to Kenya and visit a Masai Mara village. While there, I wished that everyone could have this opportunity. Instead of feeling sorry for people whom we perceive to have less than us, it is eye-opening to connect with individuals who live a different lifestyle yet are content with what they have. The villagers were proud to show us their huts, to show off their adorable children, and tell us about their way of life. My belief is through personal interactions we develop an understanding of others and learn to share common goals of a peaceful existence between people who may be very different in thoughts and lifestyles.
These resources provide an excellent starting point for learning about other cultures and people from around the world on a very personal level.
Social Studies:
 Math:
Language Arts:
Science:
All Subjects:
Learn about more initiatives for observing The International Day of Peace at their Get Involved section. Take advantage of these many ideas to joining others around the world through the power of sports, the Peace Crane Project, and other global events and programs.
Unfortunately, we can't all travel the world to learn about other cultures in person. The International Day of Peace provides an opportunity to encourage all of us to learn more about people around the world and the similarities among us. How do you encourage peace and respect for others in your classroom? We would love for you to share your ideas in the comments below.