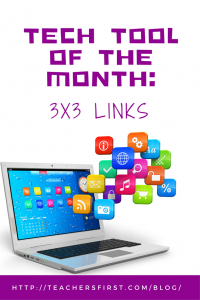 Isn't it amazing how sometimes the most simple sites are also the most helpful, or even powerful? I was recently introduced to one of these gems, 3×3 Links. This bookmarking site allows you to create a 3×3 grid to organize and share websites. Once it is created, you can share with a URL.
To use 3×3 Links, you must sign in to your Google account. However, if you create a 3×3 Links to share with your students (or parents) they do NOT need an account. To begin, click Create. You will see a blank 9 block grid. On each block add the URL and caption that you wish to share. A logo will automatically be generated, but you can personalize the logo. If you want the grid viewable by others be sure NOT to click the "hidden" option. This will make the grid only viewable to you.
Once you have created the basics of the grid and 9 sites to share, you can put the finishing touches on the page. 3×3 Links offers you many options to personalize: background color, images, captions, personalized URLs, and more. Click Options to see step-by-step instructions and a very thorough list of the site's capabilities. Here you will find information about personal logos, collaboration, embed codes, HTML widgets, and more.
There are many uses for this tool. I created a sample grid (no frills or extra graphics). This is a grid of some of my favorite features of TeachersFirst. I spent about 10 minutes total reading about how to use this site and creating this 3×3. I made the mistake of clicking to "hide" my links, this doubled my creation time. So make sure not to click that box because it hides your entire grid from your audience!
Think of all of the possibilities both in and out of the classroom using this tool. There is no need for students to type in a bunch of URLs to explore, simply make this site your temporary homepage! Share resources to study for the big science test, load up your online textbooks, share research sites and more. Use this with your reading groups to find their online reading texts. Share math practice sites on a 3×3 grid. This is a perfect option to share with families on your class website either with a clickable URL or by embedding the actual 3×3 into your class website. Families may want to use this themselves to share information with others about possible vacation locations (or rental homes), holiday activities, and more. There are countless ways to use this tool as an educator. See our review of 3×3 Links to view more classroom ideas. How can this tool save you time (and possibly sanity) this month?